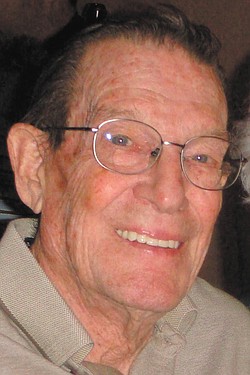 Photo
HAPPY 90TH BIRTHDAY
William 'Bill' O'Leary
Date of birth: June 25, 1922.
Place of birth: New Castle, Pa.
Residence: Cortland.
Parents: Joseph and Margaret O'Leary.
Spouse: Kathleen (Schooley) O'Leary.
Years married: Celebrated 65th anniversary June 7.
Siblings: Margaret Brown, deceased; Patricia Pugh of New Castle, Pa.; Robert of Mount Pleasant, S.C.; Donald (Jane) of Winter Park, Fla.; and Jack (Patti) of Mount Pleasant, S.C.
Children: Maureen (Ron) Marginian of Howland; Kathleen (Fidel) Salazar of Oceanside, Calif.; Timothy (Gail) of Pompano Beach, Fla.; Colleen (Jerry) Williams of Victorville, Calif.; Terry O'Leary (Joan, deceased) of Maricopa, Ariz.; and M. Shaun O'Leary of Cortland.
Grandchildren: Shannon (John) Aslanis, Cortland; Michael (JeriLee) O'Brien, Warren; Shaina Williams, Corona, Calif.; Brianna Williams, Encenitas, Calif.; Taylor Williams, Hesperia, Calif.; Ryan O'Leary, Mesa, Ariz.; Bob (Tricia) O'Leary, Chandler, Ariz.; and Roseann (Mike) Oberle, Mesa, Ariz.
Great-grandchildren: Katie and Lia Aslanis; Chase and Mason O'Leary; Ashley and Kaycee McIntyre; Donovan, Dylan and Devin Oberle; and Addie Jordan.
Education: New Castle High School, Class of 1940.
Employment: Owner of The Pub in Mahoningtown, Pa., for many years. Worked in security at McCarran Airport in Las Vegas, from which he retired in 1992.
Military service: World War II veteran, served in the Army Air Corps, 1942-1945, with The Flying Tigers of the 14th Air Force. He was an armourer on the P40 Fighter Plane.
Additional information: Bill has been known for many years for his great Irish sense of humor. Known in his younger days as "Wild Bill," he always was ready with a joke or two to liven up the party.