Youngstown teens may face life in prison after conviction in 2011 murder of Adkins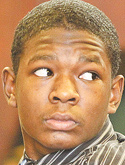 ---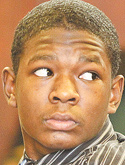 Photo

Photo
YOUNGSTOWN
More than a dozen family members and friends openly cried when a judge announced two teen boys had been found guilty of aggravated murder.
Deandre M. McCreary, 16, of West Woodland Avenue, and Rayshawn Royal, 17, of Cohasset Drive, were convicted Tuesday of aggravated murder and aggravated robbery with gun specifications in the June 18, 2011, fatal shooting of Brandon Adkins.
The trial was before Judge Maureen A. Sweeney of Mahoning County Common Pleas Court.
The 12-member jury — eight women and four men — began deliberations Monday afternoon, then resumed early Tuesday morning. The verdict was announced about 10:40 a.m.
McCreary and Royal could be sentenced to life imprisonment. They will be sentenced at 9:30 a.m. today.
Royal and McCreary sat without emotion as Judge Sweeney read each count and the guilty finding of the jury. A group of supporters of the boys attended each day of the trial, but neither of the convicted teens acknowledged the spectators after the verdict was read.
Those sitting in the courtroom acted orderly and said nothing as the verdict was read, but as deputies placed the two boys in handcuffs several people could be seen and heard sobbing. One woman became so emotional she could barely stand to leave the courtroom.
None of the supporters of the convicted teens wanted to speak with reporters.
Police found Adkins, 16, of East Philadelphia Avenue, a Chaney High School student, lying in the driveway of a house in the 3100 block of South Avenue, shot in the back, abdomen and right forearm and surrounded by a large crowd. He was pronounced dead at the scene.
The case against the two teens weighed heavily on the testimony of three female teenagers who witnessed the shooting.
The teen witnesses said Royal and McCreary, wearing hooded sweatshirts, met Adkins in the South Avenue driveway, pulled out guns and demanded he empty his pockets. He said the two defendants gave Adkins five seconds to do so, then opened fire.
One witness also said one of the teens stopped long enough to pick up shell casings before fleeing the scene of the shooting.
Defense lawyers Anthony Meranto and Jeffrey Limbian, representing the defendants, said the police department performed a subpar investigation, and the witnesses were not reliable because two of the three witnesses have poor vision and at least one was smoking marijuana just before the shooting.