Group gains a worldly view on trip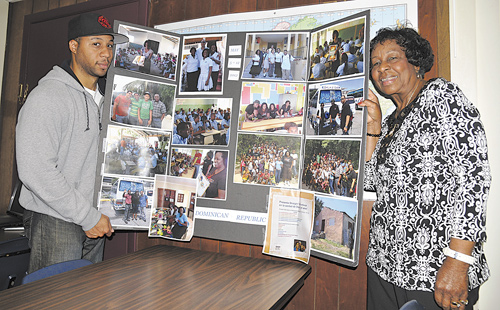 ---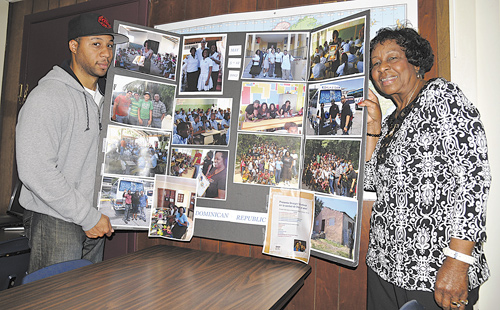 Photo
Dr. Doran M. Duke, left, and his mother, Mary Duke, executive director of Teen Straight Talk in Vienna, show off a collage of photos of a recent trip to the Dominican Republic, where they brought several hundred pounds of shoes and clothing to the impoverished people there.
By Sean Barron
VIENNA
Dr. Doran M. Duke went to Barahona, Dominican Republic, where he was greeted by what many Americans might view as abject poverty, ramshackle housing and poor health and medical care, not to mention a lack of electricity and sanitation.
Also scarce are job opportunities, except in the sugar-cane fields.
"It was an environment of survival for the people," said Duke, of Chicago, who traveled to Barahona, about 10 miles from Haiti, last month on a weeklong missions trip put together by Teen Straight Talk, an organization founded in 1989 that stresses the importance of abstinence as a lifestyle.
The organization places an emphasis on the consequences of having sex outside of marriage, such as the high number of teenage pregnancies, and the benefits of abstaining from such behavior, its website says.
Dr. Duke spoke recently at Teen Straight Talk, 1393 Youngstown- Kingsville Road, about the trip, which saw him ministering to people and participants donating tennis shoes, ball caps and candy to those in need.
More than 200 pounds of shoes, 100 pounds of caps and 50 pounds of candy were distributed, noted Mary Duke, Dr. Duke's mother and TST's executive director.
Mother and son were among the five who went on the trip, which was about $13,000. The others were Crystal Duke of Indian Trails, N.C., a speech pathologist who's Mary Duke's daughter; Detrich Deverge, an event planner from Akron; and Sidney Hill, 16, of Liberty Township.
Sidney is the younger brother of 25-year-old Jamail Johnson, who was shot to death Feb. 6, 2011, at an off-campus fraternity party near Youngstown State University.
Johnson's and Sidney's mother, Sherline Hill, heard about Teen Straight Talk's efforts and donated three pairs of her late son's tennis shoes and several of his baseball caps for last month's missions trip, noted Telisha Reid, TST's media-relations coordinator.
Johnson was planning to take part in a similar trip to the Dominican Republic with an uncle, though that was not affiliated with TST, she said, adding that Johnson had a collection of more than 150 pairs of tennis shoes and 200 ball caps.
"It really means a lot that they would want to donate his things to us," Reid said, adding that Sidney went in honor of his brother. "We feel that Sidney got a lot out of this trip."
Dr. Duke's duties included treating those with sexually transmitted diseases, providing blood-pressure checks and helping people with wounds and infections.
Most of those he worked with were widows, Dr. Duke said.
"A lot [of widows] didn't get the proper medical care, and I assessed where they were at and got them what they needed," he explained.
In addition, Dr. Duke ministered to people, many of whom had trash strewn in their yards and continue to deal with poor nutrition, unpaved roads and few resources.
A good education is available mainly to those in the upper-middle and upper classes, he observed.
Despite overcrowded classrooms, nearly all the students were attentive and wanted to better themselves, Dr. Duke noted, adding that some students had to contend with outdoor classrooms with distractions such as noise from passing vehicles.
The experience also left a tremendous impact on Dr. Duke largely by making him more sensitive toward those with inadequate health care and showing him how many people survive with very little, he explained.
"It's made me more aware of issues others face ... and helped me create an understanding of my position as a Christian man and what my purpose is," he said.
TST partnered with Grace and Peace Ministries in Barahona.
The ministry was familiar with the organization's work and asked representatives to come to that city, Mary Duke explained.
Teen Straight Talk also tries to steer young people from high-risk behaviors such as drug and alcohol use while offering character-education programs, she noted.
TST is now collecting flip-flops to be sent to poor children in Maui, Hawaii, as part of its fourth annual slipper drive.
To donate a pair or to make a monetary donation, call 330-539-6040, or go to www.teenstraighttalk.com.