Published: Wed, June 20, 2012 @ 12:00 a.m.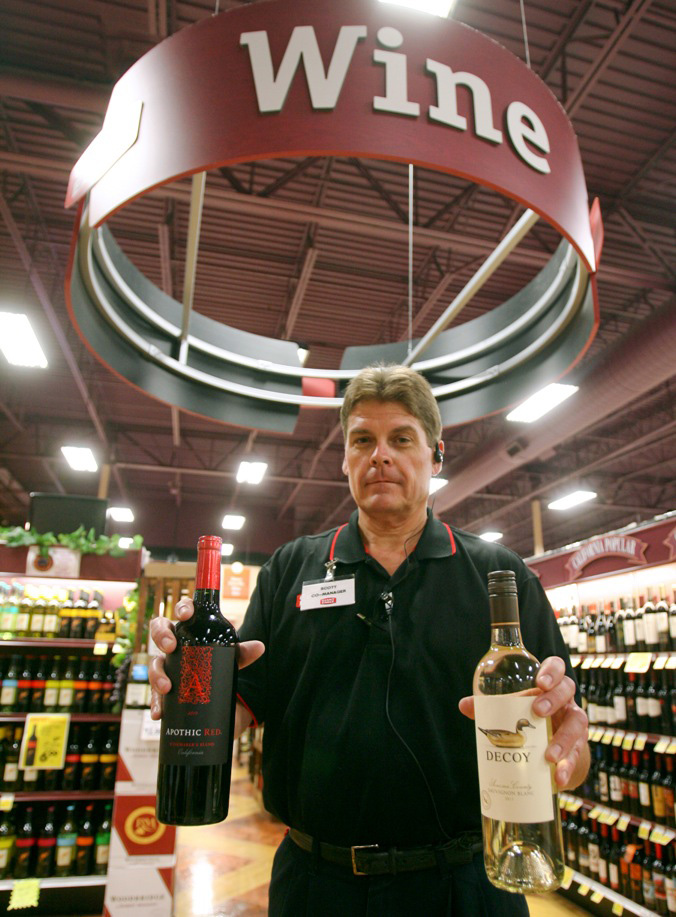 Photo
Co-Manager of the Church Hill Commons Giant Eagle, Scott Renzenbrick.
STAY COOL
Giant Eagle's choices for cool summer drinks:
Frozen Cocktail Pouches from Dailey's, Parrott Bay and Arbor Mist
Summer Seasonal Beers like Lienenkugel Summer Shandy and Rust Belt Blonde
Refreshing White Wines like Robert Mondavi Fume Blanc and Sterling Chardonnay
Manager's selections for best value wines:
Apothic Red $11.99
Gnarly Head $7.99 – 9.99
Blackstone $7.99
Duckhorn "Decoy" Series $19.99
By: Brian Fry
When I talk with Mahoning Valley wine and beer lovers about where they make their purchases, there is always a wide variety of answers. Some prefer the quaint independent wine shops, others like the party shop or drive through, some even do the majority of their shopping online or through a private social or country club. Inevitably, the topic of making these purchases at a grocery store comes into play, and here the opinions are strong and diverse.
The grocery store detractors cite a selection limited to mostly mainstream and lower-priced wines and beers, and a staff that is either invisible or lacks meaningful knowledge to really assist them with purchases. Grocery store proponents cite low prices and excellent quantities on hand at all times. The truth is that both sides make good points about buying wine and beer at grocery stores.
You can see the Church Hill Commons Giant Eagle's commitment to excellent wine and beer selections from the second you enter that section of the store. First, you encounter numerous large displays of popular national brands, such as Gnarly Head and Barefoot. Next, you see a real rarity in the grocery store experience, a walk-in fine wine room that is temperature controlled at 55 degrees. As you pass through the long aisles with hundreds of wines on each side, you enter the beer section, which is nothing short of amazing and includes a large walk-in beer cave.
Co-Manager Scott Renzenbrick and Assistant Glenn Marrie are responsible for the expansive department, and you will almost always find one of them there managing stock or helping customers. The store has built a strong reputation for customer service.
"We strive to be proactive in our customer service and knowledgeable about the wines and beers we carry. We also keep our eyes and ears open for new products and suppliers that our customers want," Renzenbrick said.
"We have seen tremendous growth in our craft and micro brew sales, especially among younger consumers aged 21 to 35," said Renzenbrick. "It used to be that you had to go to an independent or specialty shop to find these beers, but we responded to our customer's requests, and they have continued to purchase them."
Great features like the fine wine room are a rarity in grocery stores. In fact, Church Hill Commons is the only one in the area to have one. The brands in this room are as impressive as any independent shop. The store will also place special orders for premium wines at a customer's request.
Perhaps the greatest benefit of shopping Church Hill Commons is its commitment to state minimum pricing. Owner Bob Graf has noticed an improvement in wine prices over the past two years. "The more aggressive pricing, especially rebate programs, has really helped drive sales." Ohio law allows for "post offs," monthly special prices that can dramatically reduce the price of a wine, and Church Hill Commons always passes that savings on to the consumer. Not convinced? Stop in, see for yourself and compare.
Contact Brian at brian.fry@myvalleyvino.com or by visiting www.myvalleyvino.com.
On vindy.com: Stay up to date with Brian's tastes and travels 24/7.