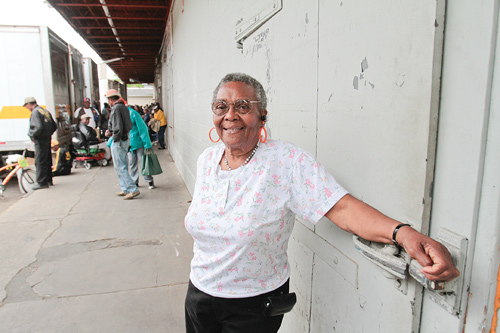 ---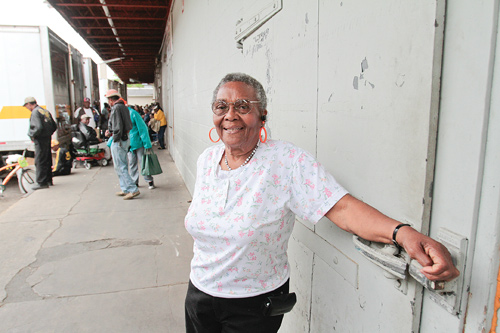 Photo
Annie Hall stands outside on the loading platform of the Gleaners Food Bank on Pyatt Street. Gleaners distributes food to the community every Tuesday from the South Side location. Hall has been volunteering there for years.
Gleaners Food Bank lends a helping hand
YOUNGSTOWN
Every Tuesday, Annie Hall, Joseph Lordi and a host of volunteers open the doors of the Gleaners Food Bank on the South Side to a waiting line of people looking for food to fill their cabinets.
The warehouse rooms are stacked from floor to ceiling in most places with a variety of food. Trucks deliver the food items throughout the week in preparation for the Tuesday distribution day, but it certainly wasn't always that way.
Lordi and the food bank had a much more humble beginning more than 27 years ago. There was no warehouse. There were no pallets of food or volunteers and employees eager to help in food distribution.
Lordi said he had been laid off from his full-time position and was going from part-time job to part-time job when he got the idea to help people struggling like he and his wife.
"It was just one thing after another," Lordi said. "We were just struggling, and I thought there has to be a better way of getting goods and food for people like myself who did not get food stamps."
Those early food distributions were done on a street corner with the help of a local pastor. Lordi said the distribution eventually moved to a warehouse owned by the Volunteers of America and then to a building on Pyatt Street owned by the Pyatt Street Diner.
Gleaners ultimately found a home in its current Pyatt Street location purchased by the city years ago.
Lordi said Gleaners takes whatever donated food items it can get for distribution to those in need, people temporarily out of work, or people who just run low on food from week to week.
"Anywhere we can get some donations, we take them. All we are doing is trying to offer a service," Lordi said. "I want this to be an example to other cities where you can take an empty building and put this all together. This is really grass roots here and can be an example to everyone."
Annie Hall of Youngstown has been a volunteer at the food bank for more than two decades. Hall, who started coming to the food bank at one point while she was on strike and stayed as a volunteer, said the service is a blessing to the community.
"I have seen so many people who need [help], and we don't ever turn those people away. Whatever we have to give, we give because it is a blessing that we have it here to give," she said.
The food bank now serves an average of about 400 people on a weekly basis. Hall and Lordi said that number can increase depending on the area's financial climate or workers being on strike.
The food distributions have grown to include a religious or prayer base for those interested.
Tom "Brother Tom" Allman parks his van outside the distribution site weekly offering prayer and coffee to those interested. He said the prayer sessions, like the food bank, have been very successful.
"We have literally seen hundreds of people come to the Lord down here. It's like a move of God taking place down here," Allman said.
Lordi said he has greater visions for the food bank in the future.
He wants to create an environment where young people can come and play games, taking them away from the lure of the streets. Those young people, he said, would then be able to stay out of trouble and walk away with food items to make sure their families are fed.