Published: Tue, June 19, 2012 @ 12:00 a.m.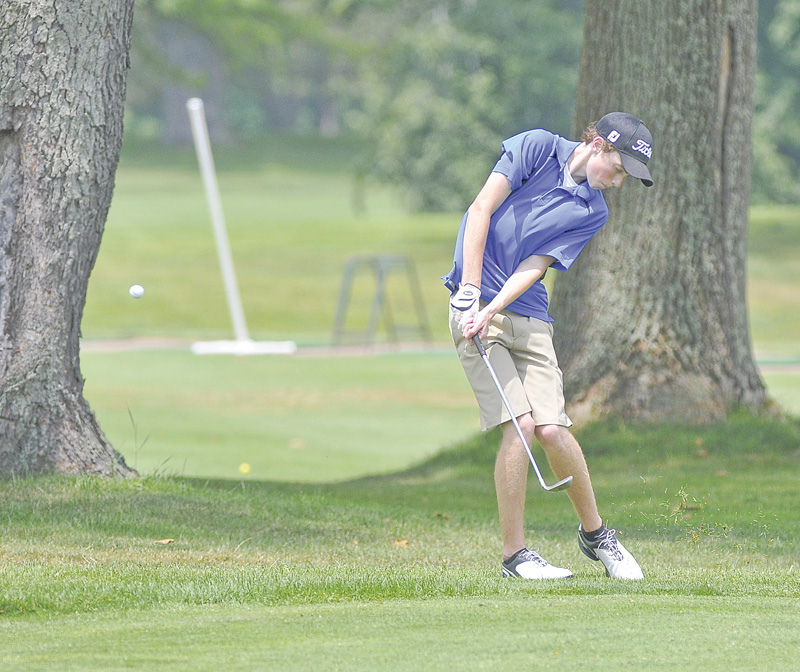 Photo
Matt Peck chips out of the rough outside the fairway during the third qualifier for The Greatest Junior Golfer of the Valley tournament Monday at Salem Golf Club in Salem. The top two golfers in each division — boys U-17, girls U-17 and boys U-14 — advanced to the championship set for July 21 at Trumbull County Club.
Defending champion James LaPolla among the qualifiers
By ryan buck
SALEM
A strong cast of junior golfers teed it up Monday at the Salem Golf Club in the third qualifying round of The Vindicator's Greatest Golfer of the Valley presented by Farmers National Bank.
Seven players snagged the coveted spots in the tournament's final round, to be held at Trumbull Country Club July 21st, by posting one of the top two scores in their respective age groups.
Players took advantage of the favorable weather and great course conditions to post the lowest scores of the tournament thus far.
Defending boys champion James LaPolla fired a round of 77 to take the top spot in the 15-17 division.
LaPolla's memorable 13th hole propelled him to his first place finish.
"The par-five on the back, number 13, I had my approach in. My third shot hit the flag stick and I made birdie and almost eagle," said LaPolla, a senior-to-be at Warren JFK. "It bounced six inches away. It was the best shot I hit all day."
LaPolla's performance Monday bodes well in his quest for repeat victory despite a strong field.
"I'm going to go in pretty confident again," he said. "Last year going in I was a little bit shaky after seeing all the kids. I was really nervous but I ended up playing the best."
Nipping at LaPolla's heels were Columbiana's Nathan Garofolo and Mohawk Trails qualifier Dominic Carano of Canfield, who notched scores of 78.
Garafolo said his familiarity with the course factored into his strong score, having played his high school sectional events at Salem Golf Club. Like LaPolla, he also came up big on the back nine to qualify.
"Number 12 when I birdied, I hit a really good shot right in the middle. It trickled on down to within three feet," he said of his approach with a gap wedge. "That's what got me going."
In the girls 15-17 group, Rachel Sines' 86 was good for the win. She grabbed a spot in the finals after narrowly missing out at the first two events.
"The front nine was really tough. I wasn't expecting that; a lot of blind shots and doglegs," said Sines. "The back nine came through, though. I shot a 40 on the back nine, which saved me."
Sines will join her Poland Bulldogs teammate Melinda Hannon, who won the Pine Lakes event in May, as well as Howland's Haleigh Guerrero at Trumbull Country Club.
Brian Terlesky of Boardman, who's won his share of junior tournaments both locally and nationally, made his presence known in the boys 12-14 year-old group with an impressive back-nine 35. Terlesky, 12, was named U.S. Kids Golf player of the year for his division in 2011.
Joey Passerotti, who will play for Cardinal Mooney in the fall, finished second in the group with a 42. Lakeview High's Kaylee Neumeister, who shot 48, qualified from the girls' side.
The boys and girls aged 12-14 walked the back nine only Monday.
In addition to Carano, Matt Matasy, Zach Jacobson, Ken Keller, Christina Cooper, and Cait Butler emerged from last weekend's event at Mohawk Trails to qualify for the tournament finals.
The next Greatest Golfer of the Valley junior event is June 27th at Tam O'Shanter in Hermitage. Tournament information is available at the course, vindy.com/golf and @vindygreatest on Twitter.