MITT MAKES PITCH | EXCLUSIVE VINDICATOR INTERVIEW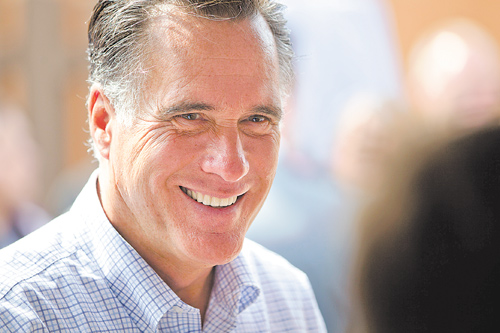 ---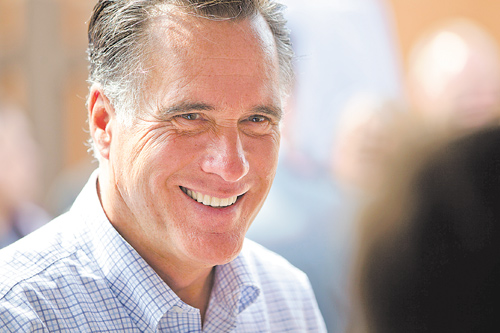 Photo
Republican presidential candidate, former Massachusetts Gov. Mitt Romney smiles during a campaign stop at Mapleside Farms on Sunday, June 17, 2012 in Brunswick, Ohio.
BRUNSWICK
Mitt Romney, the Republican presidential candidate, said if voters are concerned about the economic future of the country, he is their clear choice in the November election.
"I ask my liberal friends: What's the president done to help the economy?
They can't think of anything," Romney said Sunday in an exclusive interview with The Vindicator.
"This economy has not been helped by his policies," Romney said of President Barack Obama, the Democrat seeking re-election. "The recovery has been slowed by his policies. The president's agenda was not jobs."
Romney added, Obama "has not created jobs."
Romney spoke with a reporter from The Vindicator for about nine minutes, about five minutes less than a campaign stump speech he delivered at a pancake breakfast at Mapleside Farms in Brunswick in Medina County. The visit, which attracted about 3,000 despite a heavy rainfall before Romney's arrival, is part of his "Every Town Counts" bus tour through smaller cities.
His tour made two other Ohio stops Sunday, in Newark and Troy. Romney stops in Janesville, Wis., as well as Dubuque and Davenport, Iowa, today, and finishes the tour in Frankenmuth and Holland, Mich., on Tuesday.
U.S. Sen. Rob Portman, a potential vice-presidential running mate, who introduced Romney at the rally and traveled with him Sunday through Ohio, sat next to Romney during the interview inside Mapleside Farms' restaurant.
When asked why voters in Mahoning and Trumbull, two of the most Democratic counties in Ohio, should support him, Romney said, "For me, Job 1 is jobs for the American people with rising wages. Good Democrats are just as interested in good jobs as good Republicans, and that's my priority. It's not a partisan agenda. It's a jobs agenda."
Jessica Kershaw, Obama's Ohio spokeswoman, responded: "We've seen 27 months of job growth, and Ohio's economy is helping to lead our country out of the recession. ... We need a president who will work hard to protect the economic progress we're starting to make in Ohio and across the nation, not take us back to the failed policies that got us into this mess in the first place."
AUTO BAILOUT
A major issue in this campaign and in the Valley is the $82 billion government bailout/auto rescue of General Motors and Chrysler in 2009. GM earned its largest profit ever in 2011, $7.6 billion. GM, which makes the hevrolet Cruze at its Lordstown complex, received $49.5 billion in federal money. The car complex, with about 4,500 workers, is among the Valley's largest employers.
Romney penned an opinion article in November 2008 for The New York Times urging then-President George W. Bush, a fellow Republican, to not give a "bailout" to American auto companies because with it, the industry's "demise will be virtually guaranteed."
In the op-ed with the headline, "Let Detroit Go Bankrupt," Romney called for a "managed bankruptcy" that "would permit the companies to shed excess labor, pension and real estate costs. The federal government should provide guarantees for post-bankruptcy financing and assure car buyers that their warranties are not at risk."
A number of independent analysts, including the bipartisan Congressional Oversight Panel, say a managed buyout without a government bailout wouldn't have worked because the U.S. credit market was frozen at the time, and international funding sources were very limited.
On Sunday, Romney said Obama "finally came to the same conclusion I did early on. I said the companies needed to go through managed bankruptcy, and it was important for the industry to be able to recover."
Romney told WEWS, a Cleveland television station, last month that his proposal worked, "so I'll take a lot of credit for the fact that this industry's come back."
But on Sunday, he said, "I don't pretend they [listened] to me, but they came to the [same] conclusion. The companies went through managed bankruptcy. They got the help they needed to reboot, and now they're making good progress. The president and I had the same objective, which is to save the auto industry. I just thought from the beginning that managed bankruptcy was necessary. He reached that conclusion a little later."
In response, Kershaw said: "Mitt Romney has made a long list of absurd statements, but this one might be at the top of that list. President Obama had the courage to stand up for the American worker and save the auto industry, which is putting Ohioans back to work all across the state and across the country."
Romney said if a managed bankruptcy was filed earlier, the nation "would have save[d] about tens of billions of dollars. I also think had it been done earlier that the UAW [United Auto Workers] wouldn't have been given a sweetheart deal. But the fact that the industry is saved is the good news.
Now the question is who can do the best job making the industry stronger going forward, and my policies will reignite our economy and get people working so they can buy cars again and the president's economy has not succeeded."
David Green, president of the UAW Local 1714 in Lordstown and an Obama supporter, said it's a "misconception that the UAW had a sweetheart deal. We all gave up thousands of dollars in concessions, both employees and retirees. [Romney] wants everyone to make $10 an hour. I get real frustrated because our one plant has 380 part suppliers. Most aren't unionized and [the auto rescue] kept them in business."
Also, with GM's record profits last year, Green said plenty of people are buying cars, further contradicting Romney's statement.