Bob Dylan coming to the Covelli Centre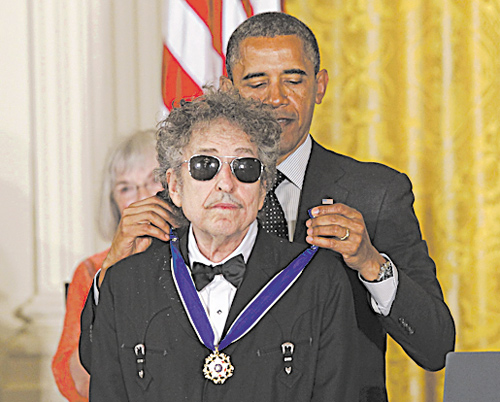 ---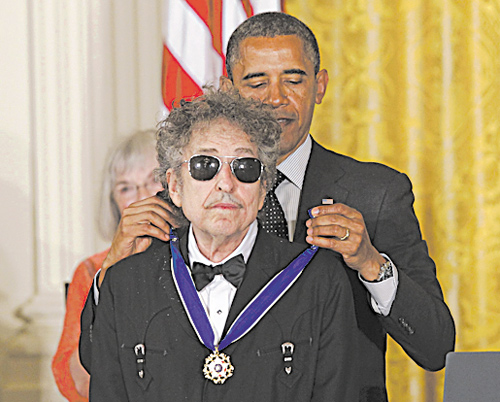 Photo
President Barack Obama presents rock legend Bob Dylan with a Medal of Freedom on May 29 at the White House.
By DAVID SKOLNICK
skolnick@vindy.com
YOUNGSTOWN
Where will music icon Bob Dylan be on Aug. 28?
It won't be "All Along the Watchtower," or "Maggie¹s Farm," and he won't be "Stuck Inside of Mobile with the Memphis Blues Again."
Instead, Dylan, who wrote those songs and hundreds of others, will perform Aug. 28 at the Covelli Centre in his first show in Youngstown in close to two decades.
"This has been an act [we've] been chasing for a while," said Kelsey Rupert, the center's director of marketing and sales. "To nail down a music legend like him in Youngstown is just phenomenal. [This concert is] a great
testament to Youngstown. When people purchase tickets, we get noticed. It's a great measuring stick that an act like Bob Dylan is coming."
Tickets go on sale at 10 a.m. Friday and can be obtained through Ticketmaster's website – ticketmaster.com – by telephone at 800-745-3000, at local Ticketmaster outlets or at the Covelli Centre box office.
The cost of tickets, which go on sale Friday, not including Ticketmaster fees, are $65, $55, $45 and $25.
"You can¹t beat the prices," Rupert said. "We're able to keep the prices relatively low."
About 6,000 tickets will be available for the show, she said.
The show comes during what is typically the slowest time of the year for indoor arenas, Rupert said.
"It's great to get some shows in the summer," she said.
The center is also hosting its second annual outdoor "Tangled Up in Bluesfest" concert Aug. 11 with George Thorogood and the Destroyers. The name of the show is inspired by a classic Dylan song, "Tangled Up in Blue."
"I'd like to say it's by design," but it isn't, Rupert said. "It's really cool that Bob Dylan is coming a few weeks after the Tangled Up in Bluesfest."
Dylan last performed in Youngstown at Stambaugh Auditorium on Nov. 2, 1992.
Dylan, who initially made it big as a folk singer in the early 1960s, has changed his style numerous times to include rock, country and Christian music during his 50-plus-year career.
Dylan is starting a European tour June 30 that takes him to England, Germany, Austria, Switzerland, Spain, France and Italy until July 22, according to his website. He is scheduled to play venues in Canada from Aug. 10 to 12, and then in the United States between Aug. 14 and Sept. 1.
"We've been lucky to have several music legends" at the Covelli Centre, Rupert said.
Among the biggest were Barry Manilow on Aug. 27, 2011 and Elton John on May 1, 2010.
More like this from vindy.com