The Wolfords mark 50th event at family dinner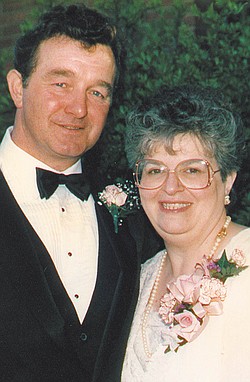 Photo
POLAND
Bob and Carol Wolford of Poland were the guests of honor at a family dinner June 16 at Bruno's Restaurant for the celebration of their 50th wedding anniversary.
Hosting the event were the honorees' children, Michael Wolford and Susan Baughman, both of Struthers, and Brian Wolford of North Lima.
A pre-celebration trip was taken in August 2011 to Toronto, Ontario, where the couple traveled by rail to Vancouver, British Columbia, then took a cruise to Alaska.
The former Carol Stevens and Mr. Wolford were married June 16, 1962, at Archangel Michael Greek Orthodox Church in Campbell.
Mrs. Wolford retired in 1999 as a school bus driver for Poland board of education. She is a member of Ruth Shrine 64 and Poland Masonic Lodge.
Mr. Wolford retired in 2003 from CSX Railroad in New Castle, Pa., where he was a trainman. He served in the U.S. Army. Mr. Wolford is a past master of Poland Masonic Lodge.
For 30 years, they owned Poland Mower Service.
The family includes eight grandchildren.