Hundreds mark Earla Smith's 104th birthday ... Down on 'The Farm'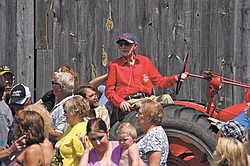 Photo
Surrounded by friends and family, Earla Smith sits on a tractor at his farm during a recent celebration staged in honor of the 104-year-old.
By Sean Barron
NORTH JACKSON
May 19, 2008, was a big day for Earla W. Smith.
He flew home from Pensacola, Fla., and was bumped to first class; he received a card from President George W. Bush; and he was given a congratulatory happy-birthday wish from famous TV personality and weatherman Willard Scott.
After all, the date marked Smith's 100th birthday.
Less than a month later, the real celebration got under way when an estimated 350 people attended a party for Smith at his Gladstone Road farm, affectionately known as "The Farm."
Recently a similar gathering took place to once again honor the man whom countless family members and friends revere.
"He is one of God's greatest creations," said his 55-year-old granddaughter, Adell Clouse, who helped organize the 104th birthday party that took place June 9 at the 126-acre farm.
"He is an amazing man. He smiles all the time, and I've never heard a cross word come from his mouth," she said.
Adell and her husband, Roger, live with Smith.
Echoing that sentiment was Smith's great-niece, Marsha Holbrook of Niles, who was among family members and friends who attended the day of fun and festivities.
An estimated 300 people of all ages enjoyed an afternoon filled with swimming, barbecuing, corn hole and other games, food, fellowship and hay rides.
One of the day's highlights was when attendees gathered in a circle near a barn — with Smith perched on a tractor — and released dozens of colorful balloons in his honor.
A similar launch during Smith's 100th birthday celebration netted a few unexpected friends, because one of the balloons with an attached note somehow drifted to a lake in Canada, where David and Shirley Betts of Nepean, Ontario, found it and contacted the family a few weeks later, Clouse fondly recalled.
As a result, the Bettses have stayed in touch with Smith by sending Christmas cards and other correspondence.
For his latest birthday the couple added a birthday wish to a towel they sent to him.
Perhaps the only thing outnumbering the balloons was the number of accolades guests heaped on the 104-year-old lifelong North Jackson resident.
"He can make a friend just by talking to you," said Jean Marie Ramsey, the youngest of Smith's six grandchildren, who drove from her Pensacola home for the occasion.
"He's always been a good man."
Last month Ramsey had a smaller get-together at her home for Smith's birthday at which about 50 people showed up, she continued.
In addition to keeping his dairy farm running, Smith worked steadily during the Great Depression, when he assembled screen doors, Ramsey said.
Her grandfather also was a lathe operator who assembled titanium parts for one of the first space satellites before retiring in 1973 from RMI Titanium Inc. of Niles.
Traveling has been one of Smith's favorite hobbies, Ramsey said, adding that he's visited every state except Alaska.
The all-day gathering also was to honor the 95th birthday of Adell Clouse's father-in-law, Leon Clouse, as well as the most recent accomplishment for Chelsea A. Smith of Gustavus, one of Smith's great-grandchildren, who graduated last month from Badger High School and the Trumbull County Career & Technical Center.
"He's very loved ... and an inspiration to everyone who meets him," she said of her great-grandfather.
Chelsea said her plans include enrolling at Youngstown State University to take pre-veterinarian courses before entering Ohio State University to attend a veterinarian school. Her summer plans include — you guessed it — spending time at "The Farm," she said proudly.
Earla Smith expressed gratitude toward those who came to his gathering and said he felt good simply visiting with attendees.
"My granddaughter worked so hard to put this together," he said of Adell Clouse. "She's just a doll."
So, what's the secret to 104 quality years and counting? Enjoy family, have a loving marriage and eat plenty of salt, he advised.