Family festivities mark golden year for the Cutlips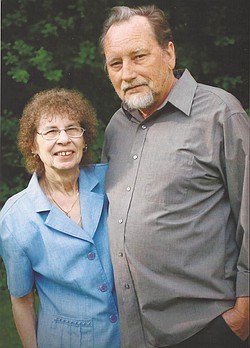 Photo
Mr. and Mrs. Thomas Cutlip
NEW SPRINGFIELD
Marking the 50th anniversary of their wedding on June 23 will be Mr. and Mrs. Thomas Cutlip of New Springfield. Invitations are being extended for a celebration on that date at the couple's home, hosted by the children and their spouses.
The couple have four children: Thomas Cutlip Jr. (Lisa) of Springfield, Ohio; James Cutlip (Missie) of Hinesville, Ga.; Leonard Cutlip (Karen) of Youngstown; and Raymond Cutlip (Kim) of New Springfield.
The Cutlips' family also has 10 grandchildren and one great-grandchild.
Mrs. Cutlip, the former Marlene Bell, is employed in an environmental position at Humility House in Austintown. She plans to retire in August.
Mr. Cutlip worked for Youngstown Sheet & Tube in Youngstown as a bricklayer. After S&T closed, he worked for Bugno Bros. Automotive Service in Youngstown and retired in 2010. He is a Freemason, a Shriner and a member of Poland Lodge.
The Cutlips were married in 1962 in Salem.