Family dinner fetes Yohmans for 55th anniversary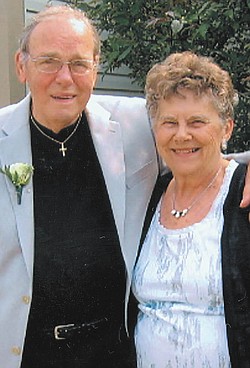 Photo
AUSTINTOWN
A family dinner May 26 at the Saxon Club honored Mr. and Mrs. John Yohman of Austintown for their 55th wedding anniversary.
The couple also received a special blessing by the Rev. Gregory Fedor during a Mass at St. Joseph Church.
The former Mary Jean Hornak and Mr. Yohman were married May 25, 1957, at Sts. Cyril and Methodius Church in Warren.
The couple have four children, Rick (Lisa) Yohman, Lori (Dr. John) Meisburger, John (Jackie) Yohman and Tim (Dr. Hilary Wells) Yohman.
The family includes 12 grandchildren, Katelyn, Jared, Lauren and Emily Yohman; Carly, Sara and Haley Meisburger; Matthew, Jeffrey and Jennifer Yohman; and Marlon and Elise Yohman.
Mr. Yohman was employed for 35 years as an electrical foreman with G.F. Business Equipment. He served as a sergeant in the U.S. Army during the Korean War.
He is sergeant-at-arms for Penn-Ohio Booster Club and belongs to golf and bowling leagues.
Mrs. Yohman was employed by Wean Engineering in Warren and later by the Public Library of Youngstown and Mahoning County for 18 years.
She also taught Confraternity of Christian Doctrine classes at Holy Name Church, was vice president for Friends of Austintown Library, is second vice president of Penn Ohio Booster Club and belongs to several card clubs.