KnowledgeWorks acknowledges it won't work in Youngstown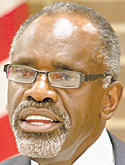 Photo
By Denise Dick
Youngstown
Whatever the immediate future holds for the city school district, it won't involve KnowledgeWorks.
"... our work in Youngstown has effectively been concluded" with the disinterest of the superintendent, Byron McCauley, a spokesman for the Cincinnati-based education reform organization, said in an email.
KnowledgeWorks in a February visit to the city advocated what it called a "restart" or complete overhaul of the city school system, which is in academic watch based on the most recent state report card.
Superintendent Connie Hathorn said last month that he believes the district needs consistency and to stick to a plan to see results. He said he told KnowledgeWorks that he's not interested.
Lock P. Beachum Sr., school board president, said he agrees with Hathorn.
"I think we need to go with the plan that's in place," he said.
Beachum said he's also concerned about the costs associated with KnowledgeWorks' proposal.
Included in the organization's plan was professional development for district personnel at an estimated cost of $450,000 per school over four years.
KnowledgeWorks said last February that if the district committed to full-scale change, it would commit to securing funding from outside sources to help.
But Beachum said with the district's fragile financial condition, he's concerned about any additional costs.
Last March, the schools' state- appointed academic distress commission approved an updated plan designed to improve student achievement in the district.
The five-member commission was created in 2010 under an Ohio law that requires direct state involvement when a district receives a rating of academic emergency on its annual report card and has failed to make adequate yearly progress for four or more consecutive years.
Youngstown native Judge Nathaniel R. Jones, who sits on the KnowledgeWorks board, wrote a column that appeared in The Vindicator on May 15 that McCauley said "sort of represents the epilogue."
Judge Jones' column read that since the organization's visit, the ADC updated the city schools' plan and that update was approved by Stan Heffner, state superintendent of public instruction.
"That plan does not take up the bold reform we proposed and thus falls short of the systemic reform for which we were advocating," retired U.S. circuit judge for the Court of Appeals for the 6th Circuit wrote in the column. "However, we do think their plan may achieve academic gains over the next few years, depending on success in implementation, and possibly even allow the schools to return to the community from state control over the next several years."
More like this from vindy.com