Family, friends and colleagues of Marc Titus lay him to rest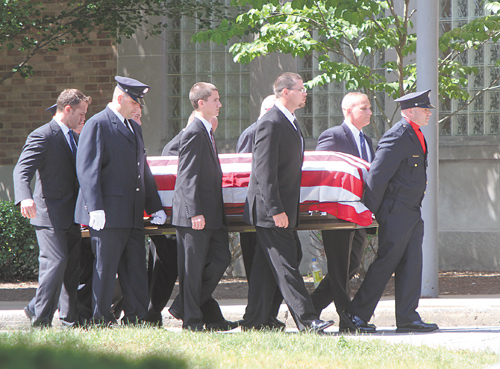 Photo
Pallbearers carry the coffin of Warren firefighter Marc Titus into the W.D. Packard Music Hall in Warren. Bugler Garey Watson, top, played taps during the funeral Thursday. Titus, 46, of Cortland, died a week ago in a motorcycle crash on state Route 11 near the King-Graves Road overpass.
Firefighter Funeral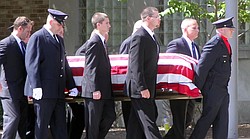 Video
Funeral services for Warren Firefighter Marc Titus, held in Warren Thursday.
By Ed Runyan
WARREN
In a world full of fancy titles, Marc Titus was interested in only two simple ones: Dad and firefighter.
"He would be astonished by how much people thought of him," said his friend and fellow Warren firefighter, Jeff Younkins, of the hundreds of firefighters who came to Warren on Thursday from all over Ohio and the region for Titus' funeral at W.D. Packard Music Hall.
Titus, 46, of Cortland, died a week ago in an accident in which he drove his motorcycle into an overturned semi tractor-trailer on a dark stretch of state Route 11 near the King-Graves Road overpass.
"He was laid-back. He was just a truly good guy," agreed firefighter Shawn Peura, who worked side-by-side with Titus for close to 20 years.
Titus, president for the past eight years of the Warren firefighters union, became known to firefighters, government officials and others in Ohio and beyond because of his forceful leadership on behalf of public employees last year on Senate Bill 5, which attempted to curtail the bargaining rights of public employees.
Before that, he led demonstrations in Warren attacking the decisions of the city administration in Warren to lay off 15 firefighters and 20 police officers to offset a deficit in the 2009 budget.
He also played an important role in obtaining a $5 million, two-year federal grant that brought the department's staffing level back to 75 firefighters, the level it was at before the layoffs. The grant runs out early next year.
Younkins, who was vice president of the union under Titus and served as president for six years before that with Titus as
vice president, said Titus was honored dozens of times for heroism in the line of duty.
He didn't seek attention, but he also didn't run from dangerous situations.
"When we went to a fire and Marc was there, it always made my job easier, because I knew Marc was with us — and I'm responsible for 25 guys," said Younkins, who's a captain.
Titus had been a firefighter three years when Peura started with the department, and Peura learned from the calm manner in which his friend handled dangerous situations.
Peura said Titus wasn't afraid to "hand off the nozzle" to a less-experienced firefighter such as himself in order to let him get experience. "He taught me a lot."
"When I made lieutenant, I still looked to him for leadership," Peura said. "Even though I was his officer, I would still take his advice."
Though Titus didn't have a title such as lieutenant or captain, he had a bigger-than-life reputation among his fellow firefighters that led to a running joke regarding the Three Turn, which Titus worked.
"There was a friendly saying that there were no fires on the Three Turn because they were afraid of Marc Titus," Peura said. The joke was a spin-off of the cracks about tough-guy actor Chuck Norris that made the rounds in recent years, Peura said.
"He laughed it off. It's going to be really hard to replace him. This one really hurts," Peura said. "He was one of the greats."
Younkins said he and Titus had become close friends during the 14 years they worked together as union president and vice president.
Though becoming known for his position as union president, Titus remained "understated," Younkins said. One way he did that was to focus on his three daughters and his duties as a firefighter and fire investigator.
"In this profession, they can talk about president, but if you can say he was a good firefighter, that's the highest compliment," Younkins said.
Titus, who played football at Warren G. Harding High School, was very competitive — at weightlifting at the firehouse and even at bowling, Peura said.
Another fellow firefighter, Ken Horm, said Titus was "one of the best firefighters in the department.
"Marc has always been a very aggressive firefighter. He would never put anybody in danger. He'd be the guy you want leading you in or behind you.
"It always seemed like every time there was a rescue, somehow Marc Titus was involved in it. If he was going to do anything, he was going to do it to the best of his ability."