4 white women claim racial discrimination at JFS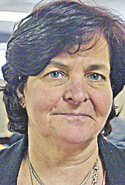 ---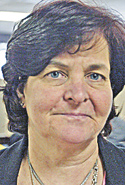 Photo
YOUNGSTOWN
Mahoning County commissioners have been hit with a reverse-discrimination lawsuit exceeding $1 million.
Four white women, including the immediate past director and three current employees of the Mahoning County Department of Job and Family Services, sued the commissioners, saying they have suffered discrimination, retaliation and emotional distress because of the behavior of some black JFS employees.
The former JFS director, Judee L. Genetin of Canton, who resigned in November 2010 to become Portage County JFS director, said she was forced to quit her job here under intolerable conditions that amounted to a wrongful termination.
"Due to being restricted in the proper performance of her job functions by policies and procedures of Mahoning County regarding racial issues, double standards for employees depending on their race and intolerable working conditions, Plaintiff Genetin was forced to resign," the lawsuit said.
John A. McNally IV, chairman of the commissioners, declined to comment, saying he had not seen the lawsuit. "It's been referred to our insurance counsel," he said.
County Prosecutor Paul J. Gains, who is in charge of the commissioners' legal defense, declined to comment because it is pending litigation.
Commissioner Anthony T. Traficanti would not comment on the lawsuit, except to wonder aloud why Genetin never expressed the complaints in her legal action while she was working for the county.
"I don't remember her ever raising those concerns during the time that she worked for us. Why are they coming out now?" he asked.
Genetin, who was paid $100,896 annually when she left here, could not be reached for comment late Thursday.
The other three women named in the lawsuit filed in common pleas court still work at JFS.
They are Lisa Moore of Lowellville, who joined the county in 1995; Sharon M. Sabatka of Youngstown, who joined the county in 1997; and Rosemary Colucci of Youngstown, who joined the county in 2004.
Moore and Sabatka are child support data-entry specialists. Colucci is a child-support clerk.
The lawsuit quotes part of a statement made from notes by Robert E. Bush Jr., JFS director, during an April 2012 staff meeting and says Bush was barring the plaintiffs from speaking out against discrimination.
"You can threaten to file grievances, EEOC (U.S. Equal Employment Opportunity Commission) complaints, or call the commissioners. It falls on deaf ears. You will be terminated if you continue to participate in this type of conduct," Bush was quoted as saying.
The quote is identical to one paragraph of a two-page, single-spaced, roughly-typed statement Bush faxed to The Vindicator on Thursday afternoon.
Bush said he was threatening to fire anyone engaging in discriminatory behavior, not to terminate employees because they filed EEOC complaints.
Bush said the quote was taken out of context from the statement, which was designed to discourage bickering between black and white JFS employees.
At a later point in the statement faxed to the paper, however, Bush decried those he said constantly call the commissioners in an attempt to influence the agency's course "through political means," and he threatened to fire employees who call the commissioners to complain about specific co-workers.
"I will consider it an act of unsubordination [sic], and, if the caller is identified to me, I will discharge that person," Bush's statement said.
"There are some internal issues that we're dealing with up at the agency, and my concern is they impact the public," Bush said. "If you and I are having a bad day as employees, it's going to impact our delivery of services to the public, and that's my concern," Bush said Thursday, echoing part of his April statement to JFS employees.
Both white and black JFS workers have filed EEOC complaints, and many grievances have been filed and calls made to commissioners concerning racial issues at JFS, he added.
"Until we start to respect one another, I don't anticipate any changes in the atmosphere here," Bush told his staff.
The lawsuit alleges white employees are barred from having personal visitors at JFS, but certain black employees are permitted to leave the office on work time to pick up their children and bring them to the office for the rest of the work day.
It also alleges some black employees are permitted to donate and exchange sick time among themselves, but white employees are not accorded that privilege.
Bush said he had no knowledge of such practices.
The suit said a black employee was permitted to run through a hallway waving an Obama flag and shouting, "We are going to change things here," upon learning the commissioners had tabled Genetin's promotion from acting director to director. The commissioners later appointed Genetin as director.
The suit alleges the county tolerated racial slurs and derogatory remarks by some black employees against white employees and conducted sham investigations of such incidents.
"I would hope everybody would get along and respect everybody, no matter what color they are. We are all to be respectful and mindful of everybody's situation in county government, and, if there is a problem, it should be resolved through the director," Traficanti said.
The lawsuit demands a jury trial, $1 million in punitive damages and more than $25,000 in compensatory damages.
The case is assigned to Judge Lou A. D'Apolito.