Boardman proprietor aims to raise Flag Day awareness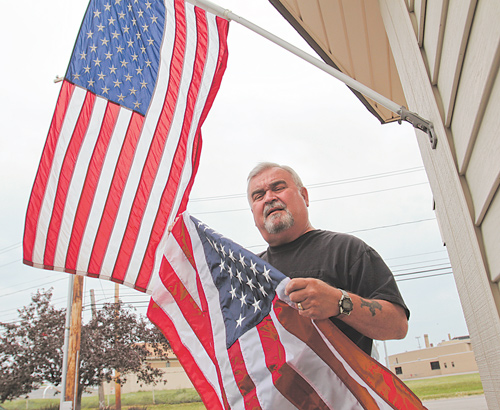 ---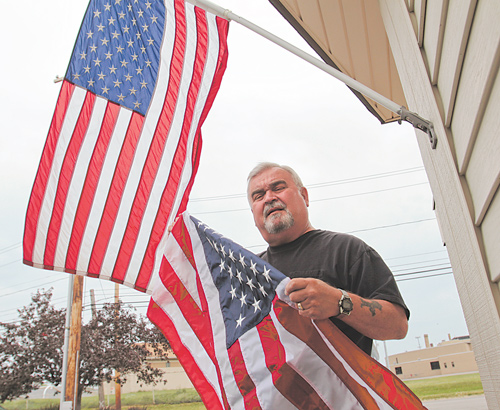 Photo
Ron Craig, owner of Western Reserve Flag Co. on Stadium Drive, sells only American-made flags. Today is Flag Day.
By LEE MURRAY
TheNewsOutlet.org
BOARDMAN
Patriotic people know that today is Flag Day.
They know the tradition goes back 120 years and started in a schoolhouse in Wisconsin as "Flag birthday" when a schoolteacher celebrated with his class the anniversary of the adoption of the Stars and Stripes.
They also know that although today is about honoring the flag itself, the focus should be on what it represents.
"People didn't die for the flag; they died for what it stands for, and that's liberty and freedom," said Ron Craig, proprietor of the Western Reserve Flag Co. in Boardman. He fears not all Americans share that sense of reverence.
President Woodrow Wilson proclaimed Flag Day as a day of national remembrance in 1916. It remains an important day for reflection both locally and nationally.
"People don't recognize it as a major holiday," said Craig.
Craig boasts that his shop is a rarity in the flag business these days: He sells only flags made in the United States. It is important, he says, to sell only flags that are American-made.
"It's important to me. I'm a veteran," said Craig.
Craig noticed a surge in sales immediately after 9/11.
"People suddenly became patriotic," said Craig, who wants to see that level of enthusiasm in good times as well as bad.
"I hope we don't have to take another hit to wake people up to patriotism," he added.
Chuck Wilson runs a training and career center for veterans at AMVETS Post 44 on Elm Road, Struthers. He sees Flag Day as a great way of expressing patriotism.
"You drive around Youngstown and you will see many, many homes displaying flags ... they may not put them out any other day, but they will put them out for Flag Day," Wilson said. "It's another form of showing patriotism."
He hasn't noticed a decline in participation, but he notes that not everyone gets involved because for many it is not a family tradition.
"Those people that don't participate in it, their parents never participated in it," Wilson said.
Wilson has several grandchildren. He said that they learned about the flag and what it symbolizes through his history of military service. He said they honor America in that context, but they understand what the flag represents in a broader sense, too.
"They put out their flags not necessarily for me, but because they are Americans. They want to show that pride," he said. "It's a day of reflection on their patriotic responsibility."
However, not all Americans share that sense of responsibility, Craig said, and many "just don't take the time to remember."
Craig said some older members of his community take flag upkeep and etiquette very seriously. Some will even approach his store if they spot worn or damaged flags in their neighborhood. If they provide addresses of where they spotted offending flags, the store will then mail postcards to the homeowners, prompting them to buy a replacement.
On one side of the postcard is a photograph of a tattered old flag. On the reverse, a message that reads, "Does your American flag look like this? Replace your old and tattered weather worn flag."
Craig is semi-retired now. He spends a lot of time caring for his grandchildren. For Craig, Flag Day is about making time in our busy lives to reflect on what the flag represents and to remember how that was achieved. He offered this advice to Americans — young and old — as they observe Flag Day in their neighborhoods:
"Take time to smell the roses," said Craig, "and remember your roots."
The NewsOutlet is a joint media venture by student and professional journalists and is a collaboration of Youngstown State University, WYSU Radio and The Vindicator.