Summer ambiance at Trax A shore bet on beachy patio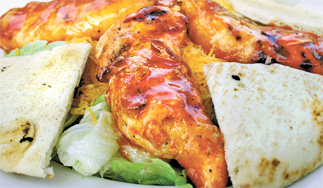 ---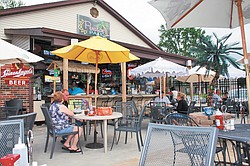 Photo
Trax's tropical themed patio is a fresh change of scenery.
When You Go...
Where:
Trax Restaurant
4250 New Road
Austintown, Ohio 44515
Phone: (330) 799-2249
Hours:
M-Sat: 11 am - 11 pm
Su: 3 pm - 9 pm
Patio: 4 p.m. opening daily
Summer Entertainment:
7:30 pm - 11 pm
Menu:
Fried Veggies Basket: $7.89
Crispy Buffalo Chicken Salad: $9.59
Baked Cod: $11.29
Food:30
AUSTINTOWN
Steph and I always love to find a restaurant that has a great place to sit outside and enjoy a few drinks, food and good company.
What this area lacks are restaurants that have really nice outdoor eating spaces along with a good mix of live entertainment to keep you coming back. What surprises me about Trax is it has a good grip on that idea and has set up the outside patio for a change in atmosphere.
The first thing you notice when you pull around back is the large patio, where there are a lot of tables and umbrellas to sit under and enjoy the Ohio summer weather. It's not until you get out of your car and approach that you notice one thing that really sets this outside patio apart from others: a very large sandy "beach."
When you get your feet in the sand you will immediately have a moment of bliss as you imagine yourself on some coast enjoying the ocean breeze and tiny particles of sand working their way in between your toes.
This particular evening had a DJ taking requests and the chance to try your vocal talents at karaoke. The owner came around and greeted everyone sitting outside as he passed out a concert series flyer showing that aside from a DJ every Monday and Wednesday, there will be bands every weekend.
Our food order consisted of a fried veggie appetizer full of mushrooms, bell peppers, onion, cauliflower and zucchini. Our waitress, Bobbie, said Trax was known for its large salads, and Steph decided she was in a Buffalo Chicken Salad mood on this cool summer night. I went with the baked cod to get me as close to the ocean as I could with all this sand under me.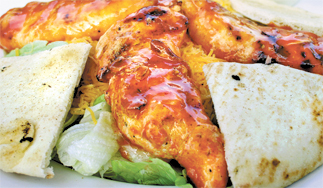 Photo
Trax's Buffalo Chicken Salad.
The app was good and had a consistent taste when it comes to fried veggies. Our dinners both seemed to fall a bit short when it came to standing out from the crowd, but I have to hold us somewhat accountable. I avoided ordering a burger to allow the Burger Guys to do their thing, even though they looked quite delicious as several came past our table.
My cod seemed to lack flavor even after I gave it a lemon squeeze and some salt. Steph said that her salad had good flavor but that when it came down to it, there was almost too much lettuce for the plate and not enough add-ons. A few pinches of this and a handful of that would have transformed both these dishes.
What bothered me about this Food:30 dining is that Steph and I have visited Trax before and knew this time we ordered the wrong dinners. Our last several visits have produced very good quality food and the same amount of fun. All I can say is if you are tired of your out-to-dinner routine and have some cabin fever from this past winter, make Trax one of your hangouts this summer and enjoy something different with some live entertainment, good drinks, food and people.
About Food:30
We'll be offering a glimpse into local restaurants and eateries, reviewing their food offerings.
Check out our blog on www.vindy.com/news/valleyfood