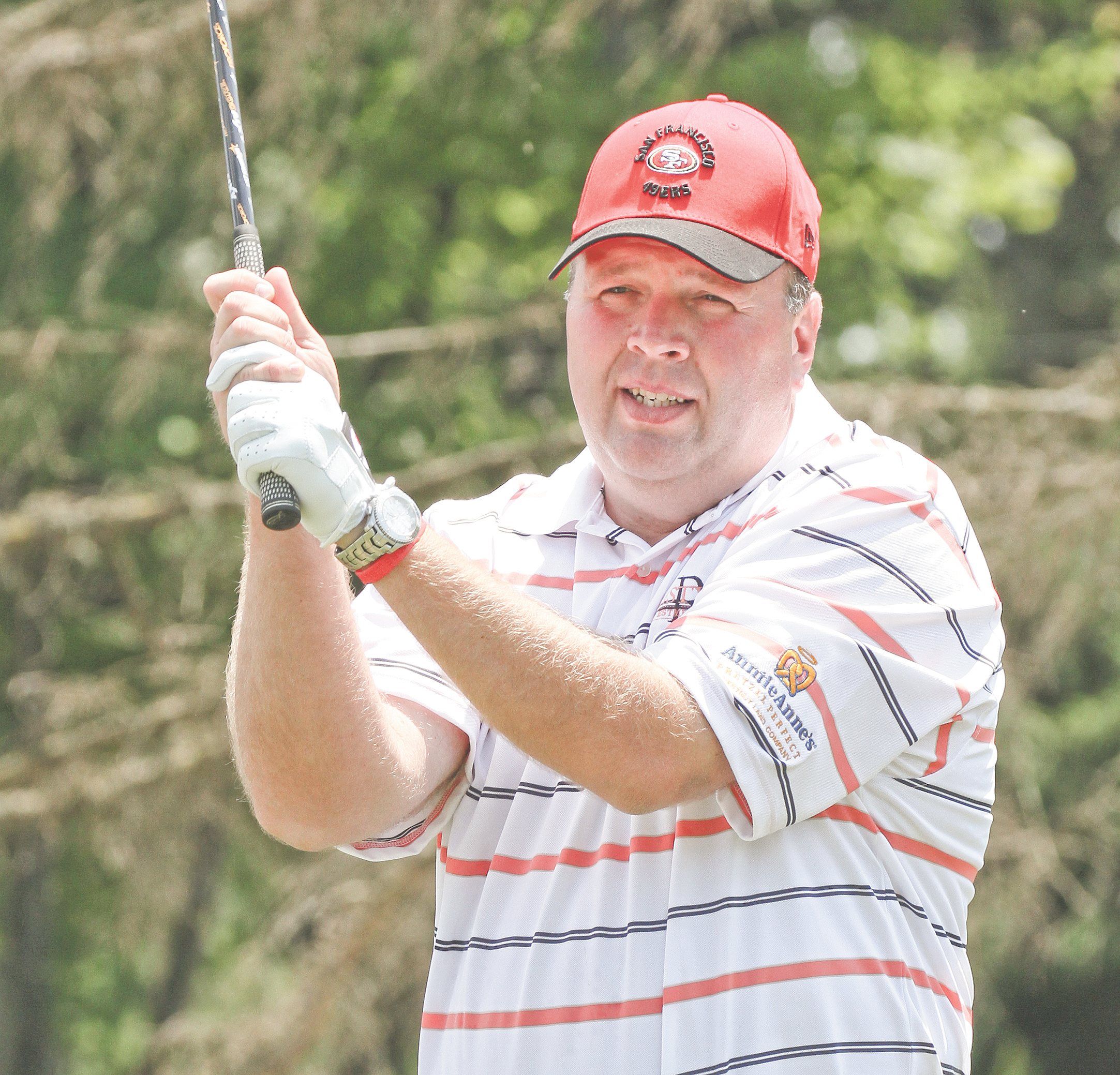 ---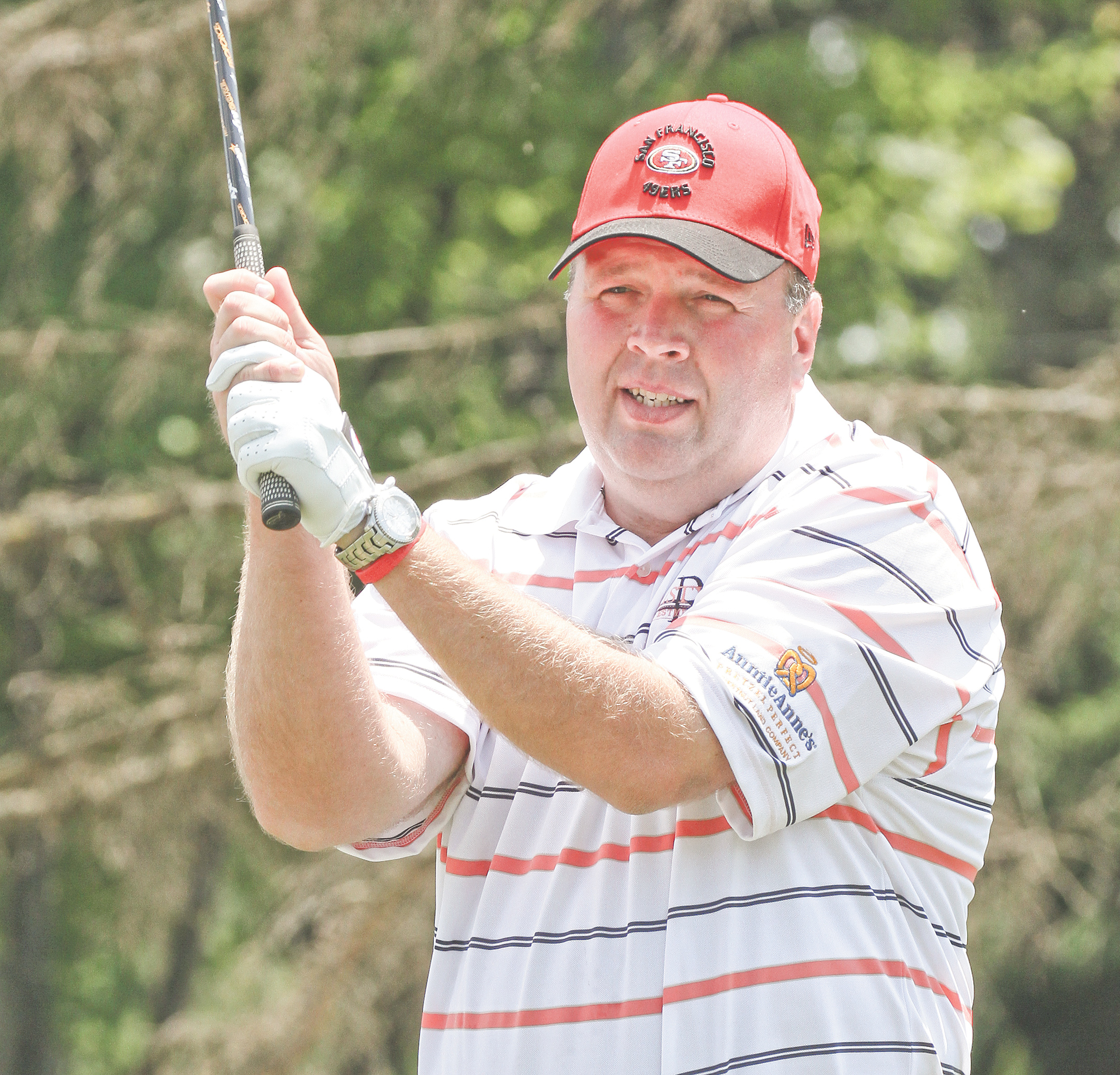 Photo
Mill Creek golf boss Dennis Miller showed up at the Olympic Club in San Francisco on Monday for the first day of his US Open experience wearing a 49ers cap, mostly as a nod to the team of which he has been a fan all of his life, but also to the York family who as a show of support helped pay his way to the Bay City. Other labels adorning his apparel reflected the support from people back in Youngstown, including Handel's Homemade Ice Cream & Yogurt, Auntie Anne's Pretzels and Ristvey Investment Group.
Youngstown's Dennis Miller has a full day of interviews, live TV coverage — and some actual practice time
San FRANCISCO
The cameras were rolling and a sizeable crowd had gathered around the driving range.
Dennis Miller was ready to shine.
The director of golf at Mill Creek Metroparks was explaining his swing to Golf Channel personality Michael Breed on the network's "The Golf Fix" program and delivered a pair of perfect drives — on live television.
"They were two of my best drives of the whole day," Miller said. "I wasn't nervous at all."
His first full day at The Olympic Club, Miller was used to the lights, cameras and action — he was already on a roll.
"We were out the door at eight in the morning and cameras were following our every move," he said in a phone interview. "It was a long, crazy day, but everything was so special."
Miller and his family arrived in California late Sunday night. After a series of flight delays, the total length of the trip was 15 hours.
"We were pretty exhausted," Miller said.
He had a press conference, plenty of live spots and interviews and he still had time to get in 10 holes on Monday.
"It was real thrilling," he said. "I was really surprised at the reaction of the crew, crowd and other golfers. So many people recognized me from my qualifying putt."
As of Monday night, the video of Miller's birdie putt in the fourth playoff hole during the sectional qualifier at Scioto Country Club in Columbus had reached 338,293 views on YouTube.
One of those viewers — a more notable one — personally congratulated him.
"I was setting up earlier in the day and a guy comes up and pats me on the back and says, 'that was an amazing putt,'" Miller said. "I turn around and it's Tiger Woods. That really threw me for a loop.
"He said he went on YouTube, saw it and he just told me how cool it was for that to happen and that it was one of the coolest shots he'd ever seen."
Miller joked with Woods saying that a shot from his Memorial Tournament win actually made SportsCenter's top 10.
"But he said, 'no way.' And that mine was much better," Miller said.
He played Monday's walk-through of the course with fellow professionals Robert Garrett and Robert Watts. The tandem, also teaching professionals — like Miller — had been on stages like this before, though.
"Their caddies joked and said, 'go easy on the rookie, don't pity the rookie,'" Miller said. "Everybody has just been so great and friendly. The welcoming and hospitality has been overwhelming.
"They all realize what an honor it is to be playing in such a big tournament and what it takes to earn it. Everybody has earned their spot to be here and I'm so proud to be a part of it."
Today is another early morning for Miller and his caddie, Kirk Hugh. He has a 7:37 a.m. tee time and will be playing alongside Aaron Baddeley and Retief Goosen.
Yes, Miller feels just like one of the guys.
"I've already had the chance to rub shoulders with some of the biggest names in golf," Miller said. "I'm looking forward to meeting and playing with those guys."
Miller made the trip with his wife, Denise and young son. Prior to the cross-country trek, he picked up sponsorships from Handel's Ice Cream and Ristvey Investment Group. His polo sports the two logos, proudly.
"All the support has been wonderful," Miller said.
The DeBartolo Corporation also helped fund it and Miller has been wearing a San Francisco 49ers hat around the course, not just to please the locals. He's been a life-long fan of the franchise.