Hvisdak earns chance at dream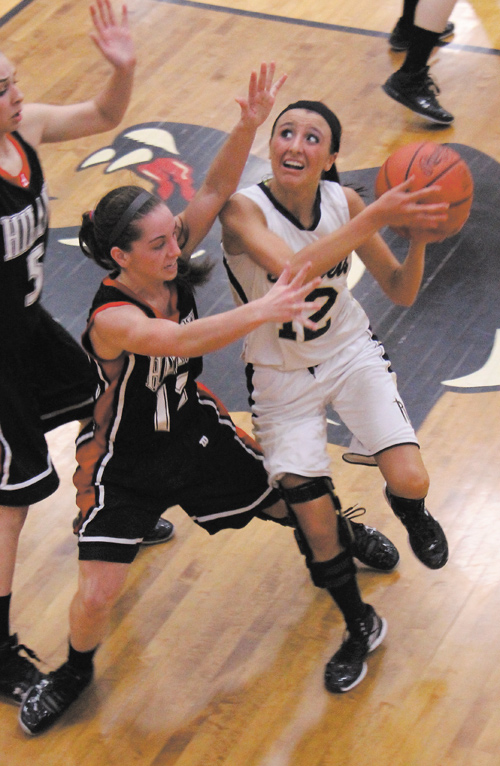 Photo
When Lowellville's Taylor Hvisdak (12) was a young girl, she dreamed of playing basketball for Youngstown State University. On Monday, YSU announced Hvisdak as one of three new recruits for the 2012-13 season, giving her the chance at her dream.
Lowellville graduate will walk on for Youngstown State women's basketball
By Joe Scalzo
YOUNGSTOWN
Before Taylor Hvisdak was big enough to dribble a basketball, she would go to YSU's Beeghly Center to watch her aunt, Lisa Rotunno, play for the Penguins in the late 1990s.
"I always dreamed of playing for YSU but I never really thought it was possible," said Hvisdak.
Those doubts lingered into high school when the Lowellville guard — who might reach her listed height of 5-foot-7 in shoes, provided they were platform — earned a starting spot for the Rockets as a freshman, displaying Division I skills in a Division III body.
After attending a summer camp following her sophomore season, Hvisdak got a recruiting letter from the Penguins' previous coach, Cindy Martin. When Martin resigned the next spring, "I was really disappointed because I knew I wouldn't be on their [the new staff's] list."
But Hvisdak kept impressing, fighting back from an injured wrist as a sophomore and a torn ACL as a junior (which she played on in the regional semifinals, leading the team in scoring) to score more than 1,000 career points and help the Rockets win four straight district titles.
After the season, as Hvisdak sorted through some Division II offers, she thought, "Well, if I'm going to have to pay to go to school anyway ..." After taking a campus visit and getting a strong recommendation from her coach, Tony Matisi, Penguins coach Bob Boldon said she could join as a preferred walk-on.
"When I met a lot of the girls [on the campus visit], they just towered over me — I was obviously the smallest one," Hvisdak said. "I think when I step on the court, not too many people think I'm going to be a star athlete and score the most points or get the most rebounds or the most blocks — obviously — but I think I play with the most heart.
"I think show my intensity on the court and I hope people that aren't from Lowellville can see that."
Monday, YSU announced Hvisdak as one of three new recruits for the 2012-13 season, joining scholarship players Shar'Rae Davis (5-8), a true freshman guard from Grand Haven, Mich., and Latisha Walker (6-2), a center who played the last two years at Xavier and will sit out this season to meet NCAA transfer requirements.
"Taylor brings a great deal of both individual success and team success to our program," Boldon said. "She also brings a tough mentality and has shown that she will work through adversity. She will add depth and competition to the point guard position."
The three players boost YSU's roster to 14 players, half of them newcomers. The Penguins lost three seniors to graduation and another (freshman point guard Kelsea Fickiesen) left the team following the season.
Davis earned first-team all-state honors at Class A as both a junior and senior, averaging 9.6 points, 3.7 rebounds and 4.2 assists in leading Grand Haven High to the state title and a 27-1 record. Her 142 assists set the school's single-season record.
Walker was a two-time first-team All-Ohio selection and a three-time all-league pick at Division IV Lutheran East High in Cleveland. She played in seven games in two years at Xavier, scoring eight points and grabbing 11 rebounds.