Local car clubs gearing up for season
1958 Chevy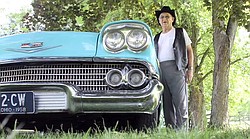 Video
Fred and Rosemary Ross of Hubbard have been driving and collecting 1958 Chevys' since they were married in 1962 and plan to drive one to help celebrate their 50th wedding anniversary.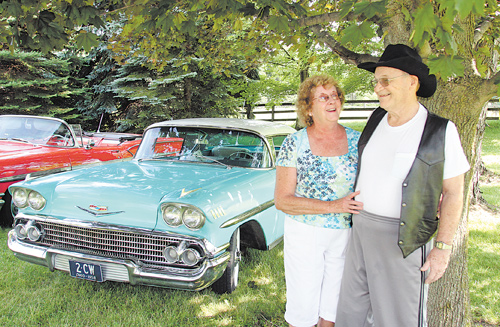 Photo
Fred and Rosemary Ross stand next to their 1958 Chevy Impala. The Hubbard couple drove a similar '58 Impala for their honeymoon and plan to drive this one to celebrate their 50th wedding anniversary in August.
By CHRIS COTELESSE
TheNewsOutlet.org
With summer around the corner, local car clubs are gearing up for their showing season.
Owners of classic antiques and souped-up hot rods are showing their steel at local parks, restaurants and anywhere else they can lay rubber.
The Mahoning Valley will host about 22 car shows and cruise-ins this summer. Fred Ross, advertising director for the Shenango Valley Region chapter of the Antique Automobile Club of America, said these events are popular because of the automobile's prominence in American culture.
"It's not like everyone is exposed to golfing or fishing, but everyone is exposed to cars," he said. "Everyone has a story."
Ross's story goes back to 1962 when he bought his first 1958 Chevy Impala.
"I was in love with the '58 Chevy from day one," he said.
He wrecked that car within a year, but immediately bought another. Ross has owned 15 of the classic model over the years and still owns two of them — sometimes more than once.
"I sold one, and then bought it back a few months later," he said.
His club will sponsor the 30th annual Father's Day Car Show on Sunday in Hermitage, Pa., from noon to 4 p.m. along U.S. Route 62 between Kraynak's and the Shenango Valley Mall.
Registration is $10 from 8 a.m. to noon. Participants who register before Tuesday will receive a free T-shirt. For more information, call Fred Ross at 330-534-4188.
Northeast Ohio and Western Pennsylvania have plenty of opportunities for motorheads.
Engines will roar in Boardman Park for the 34th annual Cars in the Park hosted by the Mahoning Valley Olde Car Club.
On Aug. 5 from 9 a.m. to 5 p.m., hundreds of cars in 24 different classes — from Model A antiques to souped-up hot rods — will be exhibited from decades of motor vehicle history.
"I grew up around cars. That's why our club is here, to make sure people can enjoy them for years to come," said MVOCC spokesperson Dee Tripp .
On-site registration is $20, opening from 8 a.m. until 1 p.m. Car owners can preregister for $10 until July 31.
Some of the proceeds and any donations will benefit 3-year old Mario Novello, who suffers from a rare chromosomal deletion. There is genetic material missing from his DNA, causing developmental delays and heart problems.
The MVOCC sponsors three children each year and presents them with the donations at their spring and Christmas banquets as well as the car show.
For information, call Tripp at 330-528-9338.
One attendee will be Kathy Miller, original owner of a 19641/2 Ford Mustang. She spends the summer taking her prized possession to various car shows and competitions around the country.
Miller is working on gathering owners of the 19641/2 Mustang from around the country for the 50th anniversary in 2014. But this year, she is driving her car to Shelbyville, Tenn., for the Antique Automobile Club of America's annual grand national meet.
She received the car as a high-school graduation gift, but work and business kept her schedule too full to really exhibit the vehicle.
She's been active in the car circuit for the last 15 years. Her love of classic machines inspired her son, Nate, a computer-science graduate of the University of Mount Union, to earn a living restoring classic vehicles.
She sighed talking about the misplaced money of a top-ranking education.
"We told him, 'We could have bought you a business for that kind of money,'" she said.
The love of cars has become like an heirloom passed down among the generations, and clubs and enthusiasts are doing their part to ensure the love continues for years to come.
The NewsOutlet is a joint media venture by student and professional journalists and is a collaboration of Youngstown State University, WYSU Radio and The Vindicator.