Students provide the perfect ingredients for ... Cooking up a classroom project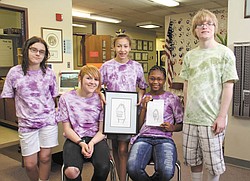 Photo
From left, Monica Shirilla, 12, Cassie Kays, 13, Nazely Rodriguez, 12, Ahmari Bell, 12, and Angus Cadman, 15, all students at the Mollie Kessler School, hold a copy of their cookbook and the picture that was used on the cover.
By Sean Barron
YOUNGSTOWN
Monica Shirilla said she had never drawn a piece of fruit, but one look at her watermelon rendition might add a layer of skepticism to that claim.
"I doodle a lot and that came to mind, so I wanted to try it," the 12-year-old seventh-grader said. "I never drew fruit; I'm an animal lover."
Monica was among several students at the Mollie Kessler School, 118 E. Wood St., who spoke recently about illustrations they made to accompany their recipe ideas that form a 125-page cookbook titled "Mollie Kessler Cooks."
The purpose of the cookbook as a class project was to give the students an opportunity to add illustrations to it, deepen their appreciation for food preparation, and get them more interested in the art of cooking and more immersed in a community project, noted art teacher Dagmar Amrhein.
"Some recipes are funny, others heartwarming," said Amrheim, who's also affectionately known as "Miss Cookie."
The Mollie Kessler School, which opened in August 2002 and has about 65 students in grades one through eight, offers specialized programs and curriculums for at-risk youngsters with learning challenges. The facility places a strong emphasis on math, reading and language, and establishing a deeper connection between the students and the community, Amrheim explained.
Monica's drawing depicted a watermelon with a jagged bite removed — not to mention an eye for detail — and an ant carrying away a small piece.
Also done with care to detail was a multilayered wedding cake, courtesy of seventh-grader Nazely Rodriguez, whose aunt owns a bakery.
"I've baked cakes with my mom, so I picked [the drawing] up kind of quick," Nazely said, adding that her mother, Wendy, has attended cake-decorating classes. The drawing took Nazely between five and 10 minutes to come to fruition, she said.
Also bearing ripe fruit were two drawings by Ahmari Bell, one of which was a combination lemonade with ice and a bowl of fruit. The other was her pencil interpretation of cake pops with frosting on top.
"We made cake pops for my mom's baby shower," the 12-year-old sixth-grader said about her idea. "The lemonade was because I wanted to set up a lemonade stand this summer."
Ahmari added that she loves art, especially watercolor painting and drawing food items and dresses.
Eighth-grader Cassie Kays, 13, also did her part to keep to a healthful theme by drawing asparagus, mushrooms, tomatoes and other vegetables, along with a toaster. Unlike many of her fellow students, though, Cassie experimented a bit before settling on her drawing that included toast, one of her favorite foods, she said.
"I began drawing fruit, but I didn't do it right at first, so I asked my classmates for ideas," said Cassie, who listed crafts and jewelry-making as two of her favorite activities.
An old-fashioned stove was on 15-year-old Angus Cadman's mind before it found its way to paper. The seventh-grader, who had no prototype from which to refer, said his father, Greg, who works at an appliance shop, and a TV show were his sources of inspiration.
"I saw an old stove on TV," said Angus, who spends a few hours each Friday helping his father at the shop. "It took a short time to draw the stove."
On the recipe book's cover is an illustration by renowned artist P. Buckley Moss of Mathews, Va., formerly of Youngstown. Moss, who is a big supporter of the school, is perhaps best known for her paintings of nature, farm and family life and friends, with an affinity for the Amish lifestyle.
The cookbook is rich in history with some recipes that have been passed down several generations. It also contains two recipes from each decade from the 1910s to the present as well as an index so the students can easily look up their recipes, Amrheim said.