Celebration fetes Mr., Mrs. Jones for 65th event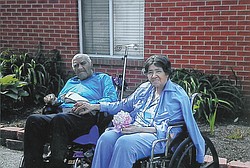 Photo
Mr. and Mrs. Freeman Jones
YOUNGSTOWN
Mr. and Mrs. Freeman Jones, residents of Guardian Health Care Center on Belmont Avenue, Youngstown, celebrated the 65th anniversary of their marriage on May 27.
Family and friends gathered at 2 p.m. in the home's activity room for a celebration.
The couple have four children: Donald of Dallas, Dennis and Denisa of Texas, and Dexter of Ohio. The Joneses have 14 grandchildren in the family.
The former Zera Gamble and Mr. Jones became husband and wife on May 29, 1948, in Youngstown.
Mrs. Jones, a homemaker, was born in Arkansas and was active in her church.
Mr. Jones, a native of Youngstown, is a retired construction worker for Laborers International Union Of North America, Local 125 in Youngstown. He also served in the U.S. Navy.