Six more kids qualify for 'Greatest Golfer' finals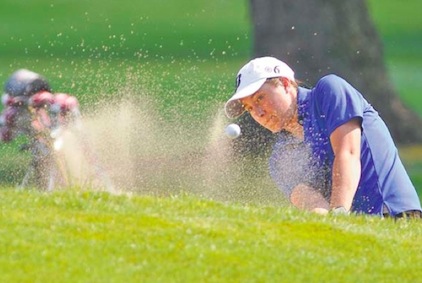 ---
By Ryan Buck
NEW CASTLE, PA.
A fresh crop of young golfers punched their tickets to The Vindicator's Greatest Golfer of the Valley Juniors Competition finals with their performances Saturday.
Mohawk Trails Golf Course played host to the second of six qualifying rounds for four age groups of boys and girls.
Shane Eichenlaub, whose family built, owns and operates the facility, was pleased with the day's activities as a first-time host.
"I've never done anything like this. I've never been in charge of a tournament," he said.
"I just thought it was really cool sending them off, reading them the rules, telling them what's going on; then getting to see them tee off, come around the turn and finishing up, keeping all the scores. It was really cool how it all came together."
Eichenlaub, a graduate of Mohawk High School and a collegiate golfer, was also impressed with the talent in this year's Greatest Golfer tournament.
"There were some good scores and good kids. I saw some nice swings and a lot of potential out there. Should be an interesting final round."
Many of those nice swings came from Canfield's Christina Cooper, who fired an 80, good for lowest round in the girls U-17 group.
Cooper birdied the difficult 153-yard, par 3 sixth hole. She said she overcame some difficulties putting with accuracy off the tee and strong iron play.
Eichenlaub said the greens are usually Mohawk Trails' defining obstacle.
"It was hard to hold it on the greens, as a lot of the kids were saying. You need that really high ball flight if you really want to stick it next to the pin."
Caitlyn Butler was the second qualifier for the U-17 girls.
On the boys side, Dom Carano and Matt Matasy earned qualifying scores in the U-17 group with rounds of 82 and 83, respectively.
Carano, of Canfield, was particularly happy with his par save on No. 17.
"I put a chip up to about 10 feet. It was downhill and didn't really roll that much, or as much as I expected it to. I made the 10-footer and snuck it in the left edge."
Matasy, like Cooper, earned his qualifying spot with careful touch around the hard, undulating greens.
"They were just playing a little tough. They're rock-hard so we just aim for the front of the green and try and let it roll up," Matasy, of Austintown Fitch High School, said. "Just try and keep it below the hole and avoid a lot of downhill putts that could get away."
In the U-14 division, Zach Jacobson and Ken Keller qualified with scores of 85. Eleven year- old Cole Christman fired the low round of 79. Christman is not eligible for the Greatest Golfer Finals as he doesn't meet the age requirements.
The next qualifier takes place June 18 at Salem Golf Club.