Pavlik looks to improve to 12-0 in Las Vegas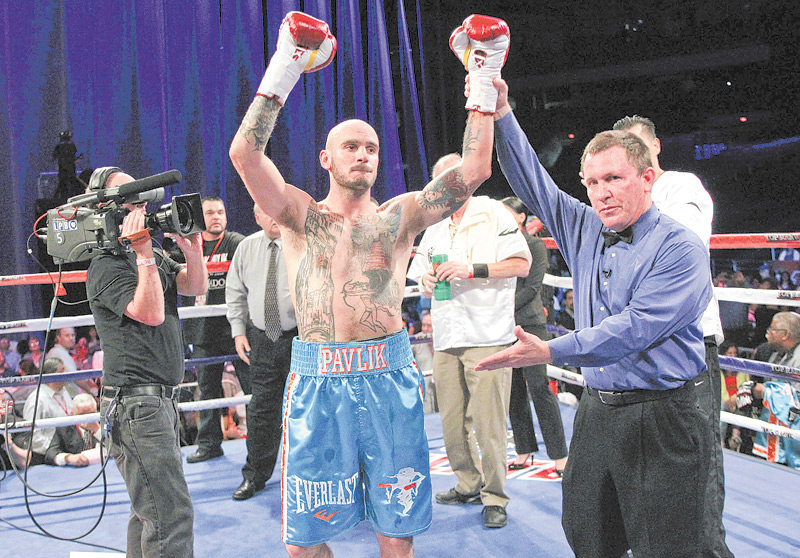 ---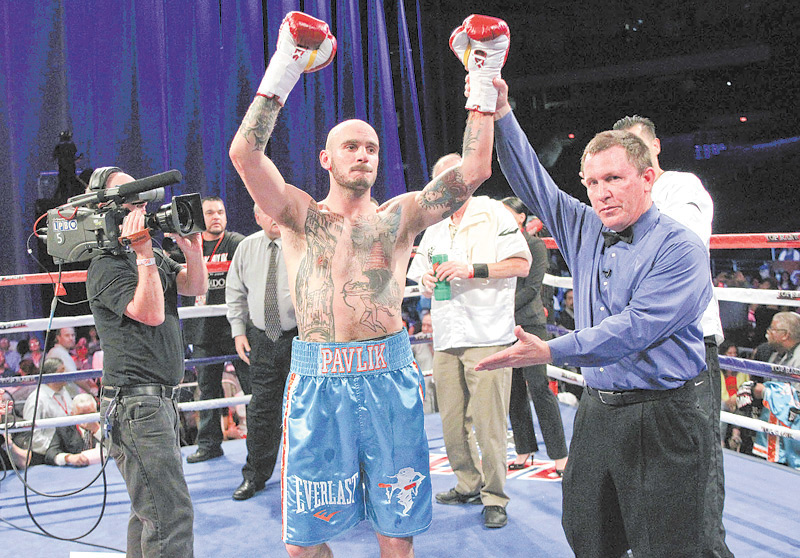 Photo
Top Rank, March 31, 2012. While Kelly Pavlik has performed well in other cities — he improved to 1-0 in San Antonio after his knockout of Aaron Jaco in March, above — no city has done more for his career than Las Vegas, where he is 11-0 all-time. He'll try to make it 12-0 when he faces Scott Sigmon tonight.
By Andy Samuelson
Las Vegas
The city of sin has been pretty sweet to Kelly Pavlik.
The former middleweight champ has amassed a perfect 11-0 record and recorded arguably the biggest moment of his career, outside beating Jermain Taylor the first time, in Las Vegas.
While the size of the venues and media following his career has dipped since his highly-publicized fall from the spotlight over the past year and half, Pavlik still garners attention wherever he goes.
"It's a great feeling to be back here," said Pavlik (38-2, 33 KOs), who will meet Scott Sigmon (22-3, 12 KOs) in a 10-round super middleweight bout on ESPN2's "Friday Night Fights" tonight, one night before Manny Pacquiao meets Timothy Bradley.
The 30-year-old Youngstown native wore a black T-shirt with his logo and black basketball shorts during Thursday's weigh-in proceedings at the Hard Rock Hotel and Casino when both he and his Virginia-based opponent tipped the scale at 167 pounds.
"It kind of is a little humbling, but it's expected," said Pavlik, of the smaller venue and crowd support. "The main thing right now is to go out there and put on a show. I still draw a lot of attention, so it doesn't really bother me."
Sigmon, however, has been bothered by the fallout from his ripping of Pavlik to numerous media outlets and on Facebook, after talks centering on an early spring meeting between the two fell part.
"I don't really know where the 'war of words' came from except for me saying one bad thing when the fight fell through," said Sigmon, a big underdog who hasn't faced a fighter of championship pedigree in his career.
"All I've done is express that I want to win the fight. If that's a bad thing to do as a fighter, it shows how [expletive] boxing has become. Of course I'm coming to win the fight, I'm not coming to lose the fight."
Pavlik — who in his first fight back in nearly a year disposed of Aaron Jaco by second-round TKO on March 31 in San Antonio — said he's out to prove he again belongs on pay-per-view cards against top-level competition.
"It's just a matter of time until I'm back on the big stage again," he said. "We have a road to get back on. I got to take care of business because I have a lot to prove."
Top Rank promoter Bob Arum says he's already seen his pugilist prove he's sincere in his comeback bid.
"I really believe he's changed his life around," said Arum, who also promotes both Pacquiao and Bradley. "The reports I'm getting are great.
"Let's see how he does on this fight and then we'll figure out where we go from here. I don't want to rush him on an HBO fight against one of the top super middleweights when he's not ready."
But both Pavlik's manager, Cameron Dunkin, and new trainer, Robert Garcia, said Pavlik is on the fast track back to stardom.
"He looks terrific. He trained really hard again. He just seems to be getting better and better," said Dunkin of Pavlik, who trains with Garcia in Oxnard, Calif. "It's like an NFL training camp out there. Guys having fun together. They motivate each other. But I also think Robert Garcia is the best trainer in boxing. I think Robert is doing a tremendous job with him."
More like this from vindy.com