Solar-powered Volt stops in Valley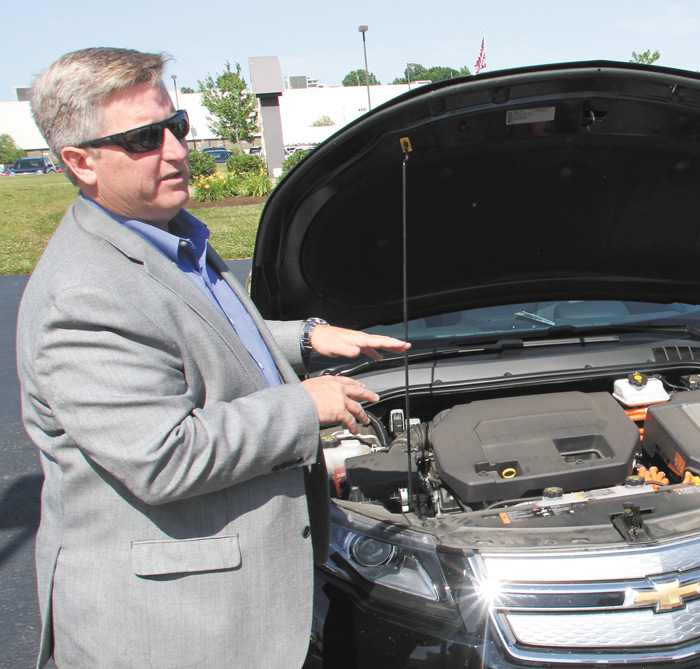 ---
By LEE MURRAY
TheNewsOutlet.org
CHAMPION
Greg Kuss of Green Energy Ohio stopped by the Warren Joint Apprenticeship Training Center to recharge his Chevrolet Volt.
Electric Vehicles

Video
Green Energy Ohio stopped in Champion today on a 534-mile trip around Ohio promoting the electric Chevy Volt. Green Energy Ohio board member Greg Kuss has owned a Volt for one year and takes us for a ride.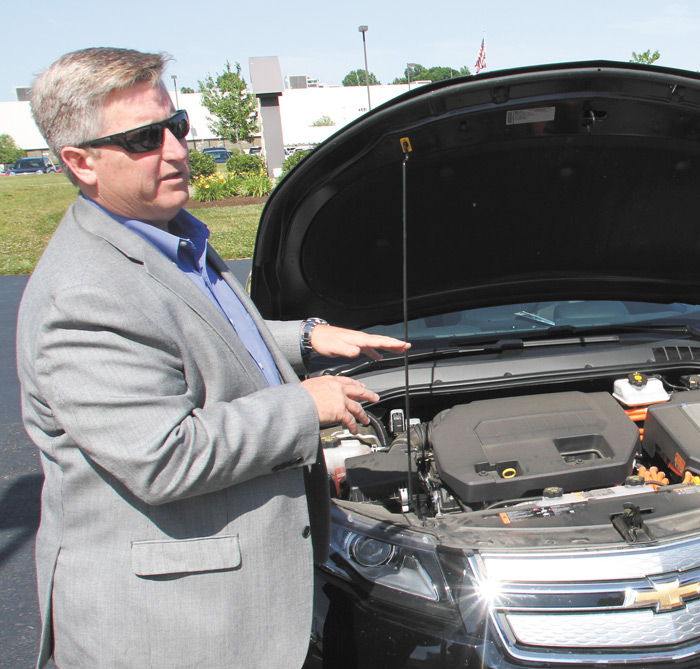 Photo
The Vindicator Randy Summer Director Global Hybrid Electric Vehicle Business and Technology demonstration Thursday in Champion looks under the hood of a Chevy Volt during Green Enegy event in Champion.
The stop Thursday was part of GEO's Tour del Sol, a five-day jaunt around Ohio powered largely by solar energy. The trip started in Columbus and ends today in Cleveland.
Kuss is driving the 534-mile Tour del Sol — the Tour of the Sun — to promote "the good news of combining renewable energy and electric cars," visiting training centers and university campuses across the state to recharge his car.
Green Energy Ohio is a statewide nonprofit that promotes environmentally and economically sustainable energy in Ohio. Kuss has been a board member for 12 years.
Kuss said that last year, 60 percent of the electricity he used to run his Volt came from the sun. Being in the solar-panel industry, he said, gives him access to an array of panels daily. On the road, his car charges up at charging stations such as the one at the training center.
"The fun thing will be, when we do this next year, there will be more charging stations and longer-range cars," Kuss said. "Sometime in the future, we'll be able to zip around Ohio not only on electric, but on electric and renewable [energy]."
Greener energy is available to all Ohioans, Kuss said. Consumers can choose cleaner electricity through their current utility company at a slightly higher rate.
"Not everybody can put up a solar panel. But you can make the choice for maybe 5 or 7 percent more [on your electricity bill when you] buy an all-green mix," Kuss said. "All utilities have that now because it's mandated."
Kuss is an advocate of energy independence. "I can plug in and run my world off electricity. That makes me environmentally minded, and I want to be part of that solution," he said.
Eric Davis, training director at the International Brotherhood of Electric Workers 573, trains electricians on how to install charging stations. The training center offers classes for that certification.
He explained why some consumers are nervous about investing in an electric car, citing "range anxiety" as one of the common concerns.
"It's still in its infancy. People worry that they can't go very far before the charge runs out. It's slow to catch on, but it's coming," Davis said. "We can't continue to be solely dependent on fossil fuels."
Across the road from the training center is the building in which Delphi Packard researches, designs and builds components for electric cars.
The Tour del Sol is carrying one of Delphi's portable chargers, which features a household plug that enables the car to be plugged into any 120-volt outlet.
Delphi is currently in the research-and-development stage of the next generation of charging stations, including a drive-on pad that can charge vehicles wirelessly.
The pads, which can be installed into a garage floor or under a parking space, use magnetic-resonance technology to wirelessly charge the vehicle.
Delphi has 16 staff members working on this technology alone, which is likely to remain in the development phase for the next three to four years, company officials said.
Bill Spratley, executive director of GEO, is traveling with Kuss. He said he was excited about the trip and about the future of renewable energy. He drew parallels between their journey and that of Thomas Edison 100 years ago.
"Thomas Edison had an electric car, and in 1912 he drove it 170 miles from London to Scotland," Spratley said. "He also developed a prototype suburban home" that would run on wind energy. "We now have the auto technology and the renewable-energy technology to make that vision real," Spratley added.
Kuss and Spratley finish their road trip in Cleveland today.
"And may the force of Thomas Edison be with us," Spratley said.