Campbell man gets maximum sentence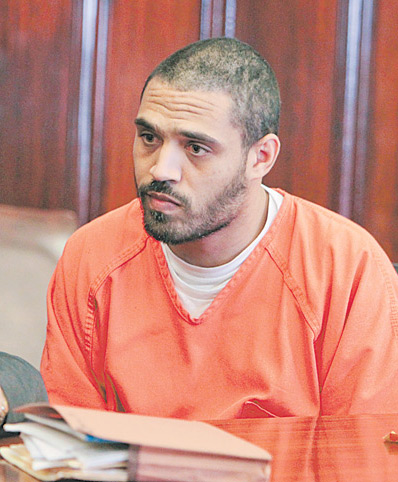 ---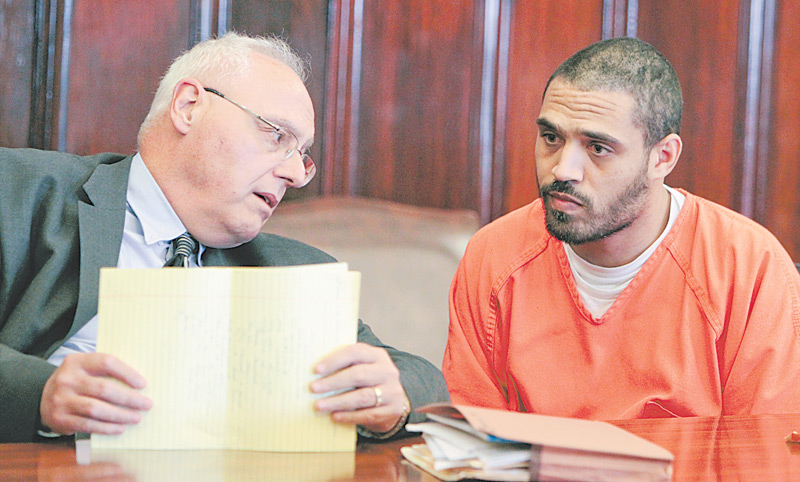 Photo
Atty. Gary L. VanBrocklin, left, confers with his client, Milous Brown, in Mahoning County Common Pleas Court. A visiting judge
YOUNGSTOWN
Prosecutors in court Thursday laid out the lengthy record of sexual abuse for a Campbell man convicted of the gross sexual imposition of an 8-year-old girl before asking the court to impose a maximum five-year sentence.
Milous Brown, 35, appeared before visiting Judge Thomas Pokorny in Mahoning County Common Pleas Court on Thursday for sentencing on the felony charge. The maximum sentence is five years, which is what the judge imposed.
Brown initially had been charged with rape of a child under 13 years old — a charge that could have sent him to prison for life — but Judge Pokorny acquitted him of that charge and found him guilty of gross sexual imposition earlier this week.
Prosecutors argued that Brown molested the girl during a swimming pool party in Campbell in 2006.
Nathasha Frenchko, an assistant county prosecutor, and the victim, who is now 14, had much to say prior to Judge Pokorny handing down Brown's sentence. Frenchko told the court she believes Brown will commit similar crimes in the future and used his past record to make her point.
According to Frenchko, Brown first was charged with the gross sexual imposition of a 14-year-old girl in 1997 and ultimately was convicted of sexual imposition in that case. In 2003, she said, Brown had some form of sexual contact with his then girlfriend's 10-year-old daughter who later was removed from the home.
Frenchko went on to say that in 2006, Brown committed the offense on the 8-year-old girl for which he most recently was convicted. He was charged with the rape of another juvenile in 2009, but was acquitted of the charges in that case.
In 2011, Brown was found guilty of gross sexual imposition on two more girls, age 4 and 5. He currently is serving a 10-year sentence for that crime.
"He is a predator in the truest sense of the word. He is personable and articulate, and that is how he gets away with this," said Frenchko. "Recidivism is a certainty in this case. ... At the first opportunity, he is going to do this again."
The 14-year-old girl who was Brown's victim begged the court to put him away for as long as possible. She said Brown's actions have haunted her since she was 8 years old and continue to do so.
"I will have to live with this horrible memory for the rest of my life," she told the court. "I continue to worry and be scared."
The victim's older sister also addressed the court, saying that her sister should not have to live in fear of Brown. She also questioned the maximum length of time Brown could spend in prison for the crime.
"Milous Brown is a child predator, he hurts little girls," she said. "Five years is the most time he can get for hurting my sister, and that disgusts me. ... We need to protect society from him."
Brown, represented by Attorney Gary VanBrocklin, addressed the court thanking the judge for "giving me a fair shake" during his trial. He said he is glad to have this chapter of his life over and is ready to begin the next chapter.
Brown did not apologize to his victims for his actions, but instead apologized for "dragging you in court" for the situation and said he hopes they can mend their relationship. He still took time out to maintain his innocence.
"I did not do what I have been convicted of," he said.
Judge Pokorny said Brown's sentence must protect the public and be just punishment for Brown. He made reference to the child victims before handing down his sentence.
"People in our community do not look kindly upon crimes where children are victimized. ... In this case, a child has been victimized physically, mentally and emotionally," he said.
Judge Pokorny sentenced Brown to the maximum five-year term in prison and ordered that he serve that time consecutive to the 10-year prison term he already is serving. Once released from prison, Brown will be on probation for five years and must register as a sexual predator for 25 years.
More like this from vindy.com