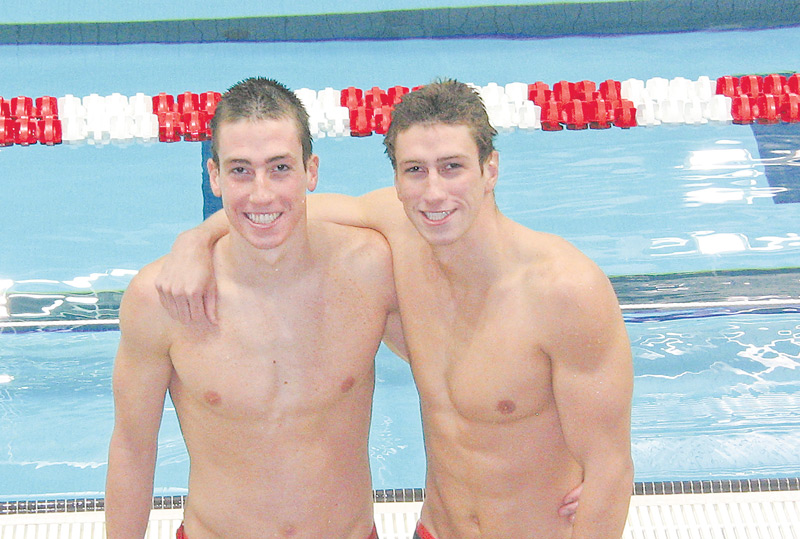 ---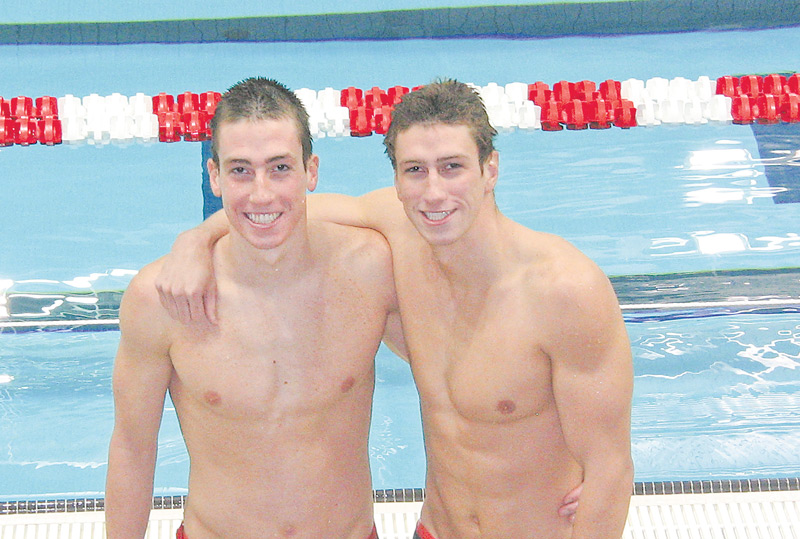 Photo
Tyler, left, and Nate King recently competed at the U.S. Masters National swimming competition in North Carolina. Each brother, graduates of Warren Harding and Ohio State, placed first in two events. The pair now lives and works in Columbus.
THE KINGS OF THE POOL
Harding graduates and brothers win national Masters swimming championships
COLUMBUS
As a kid, Tyler King looked up to his older brother, Nate.
"He was more passionate about swimming than I was," Tyler said. "I saw how hard he worked and the dedication he put into it. He got me into the sport, originally.
"I always wanted to be as good as he was."
Now the pair, separated by two years, is grown up. Both Warren Harding graduates — and Ohio State alumni — are living and working in Columbus.
But they haven't strayed too far away from the pool.
Each married former Buckeye swimmers and Tyler even coaches at Worthington High.
"I started swimming some relays with them," Tyler said. "I thought I did pretty decent and I wanted to see what I could do. If I trained a little bit and put something into it I thought it would pay off."
So all the pushing, encouraging and maybe even teasing he received from Nate was soon going to flip.
"Yeah," Tyler said, "a role reversal."
Tyler learned of the U.S. Masters Swimming Nationals from his father-in-law and wanted to see how he could stack up with the country's best, even though he was a few years removed from his last competitive meet as a Buckeye.
It just wouldn't be the same without his brother.
"Tyler really wanted to go," Nate said. "He egged me on for it and dragged me down there."
It was well-worth the trip to the Greensboro Aquatic Center in North Carolina over the last weekend in April. Tyler took the national title in 50-yard butterfly (22.29) and 100 individual medley (52.20) in the 18-24 age group. Nate won the 100-yard backstroke (50.97) and 200 individual medley (1:52.86) in the 25-29 age group.
"It felt pretty good to get back at it," Nate said. "I never thought I'd win two events. It's better than I hoped for."
The event attracted over 2,000 competitors from across the country, even former Olympians. Still, nothing was better than getting back in the lanes, especially with the siblings watching.
"We wanted to beat up on each other a little bit," Tyler said. "We weren't going up against each other, but we still had each other in our minds."
Nate agreed saying, "He was going to go and train hard and try to beat me — I couldn't say no. We didn't swim together but we were talking the whole time about who's going to have the better times and whatnot."
It's hard for the brothers to train together operating on different work schedules. Nate is a Project Controls Analyst, while Tyler is a Portfolio Accountant. And training is limited.
"I do see swimming as more of a hobby now," Tyler said. "It's always easier to train when you have something to train for. It was a big step for us and we wanted to give it our all and we're looking forward to doing it again."
They'll get that chance — a year from now — in Indianapolis. They're vying for a coveted third win. Or, at least, one more than the other brother.
"I guess we'll have to wait until next year to finish it off," Nate said laughing.