Fired or retired? Sister Jerome: 'It's not pleasant'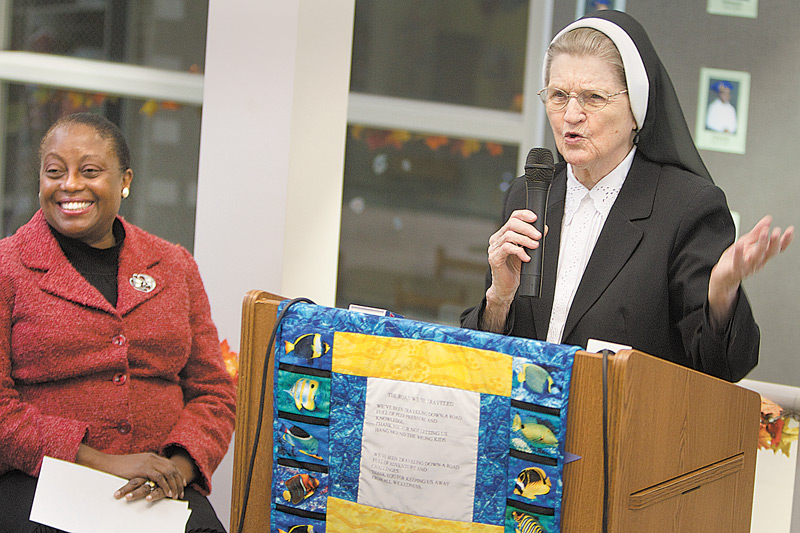 ---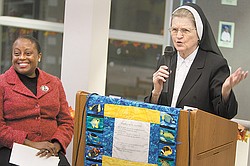 Photo
Sister Jerome Corcoran addresses an audience at Millcreek Children's Center in Youngstown to welcome Michele D. Grant as the center's new executive director. Grant resigned as director a month later. Sister Jerome, 96, continued as director, but she was notified in late May that she was no longer head of the school she founded.
By Denise Dick
Youngstown
After 35 years, Sister Jerome Corcoran is out as the head of Millcreek Children's Center.
Sister Jerome says she was fired May 25.
"They sent two board members with a document saying I was retiring, effective immediately," she told The Vindicator on Wednesday, declining to identify the board members.
No reason was given. She said she left quietly without saying goodbye to anyone.
"The ones who were friends are friends," Sister Jerome said.
Sister Jerome, 96, founded the center in 1976 as a preschool serving the children of lower-income working parents. Youngstown Community School opened next door in 1998. It's a charter school for children in kindergarten through sixth grade.
Board members of Sister Jerome's Schools Inc. issued a statement Wednesday offering few details about Sister Jerome's departure.
"Each member of the Board has the utmost love and admiration for Sr. Jerome," the statement emailed by Atty. Martha L. Bushey, board member, said. "We are extremely grateful for the school she created for this community. Our only intent was to do the best we could for Sr. Jerome, the students and their families, the staff and the community."
Mary Jane Gingher will fill the director's role.
"She is an excellent leader, a competent manager and a great team builder," the statement says. "We all realize how difficult it will be to replace Sr. Jerome."
It provides no further information.
"Out of respect for Sr. Jerome we will not discuss any details," the statement says.
Sister Jerome says she's not angry about the decision.
"I'm a tough old bird," she said. "This is an event. It's not pleasant, but there are many things — even in our environment here — that are much worse."
Gingher is the third person appointed, other than Sister Jerome, to lead the center since November 2010.
About two years ago, Sister Jerome planned to retire from the executive director's position.
The board announced in November 2010 that Michele Grant, a former associate director of development at the Rich Center for Autism, had been appointed the center's new leader.
A month later, Grant resigned, and no explanation was publicized.
Earlier this year, Patricia Sweeney was appointed the center's director. She served three months but resigned and became the health commissioner for the Mahoning County District Board of Health.
Sweeney, contacted on Wednesday, declined to discuss her reasons for leaving the center except to say it was her decision.
Sister Jerome said she made an error in not finding her replacement herself.
"I made the mistake of letting other people do it," she said.
Those people don't know what the job involves, the sister said.
Her latest replacement has only a high-school diploma and no experience but will earn $60,000 per year plus benefits, Sister Jerome said.
She said she wouldn't talk about anything that happened between her and the board leading up to being told to retire on the advice of her attorney.
"I love Millcreek," Sister Jerome said. "I don't want anything to get worse than it is."
She said she'll continue to help families in need — people who can't afford bus passes to get to doctor's appointments or to pay for the prescriptions.
"Everything that's horrible, down the line you can see some light. You really can — no matter how bad the thing is," Sister Jerome said.