Prayer, police, social services aim to calm Youngstown streets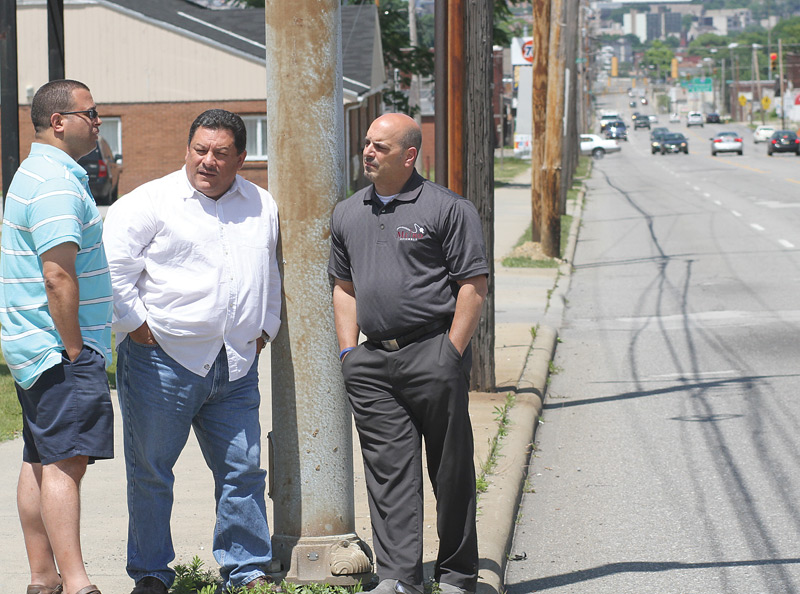 ---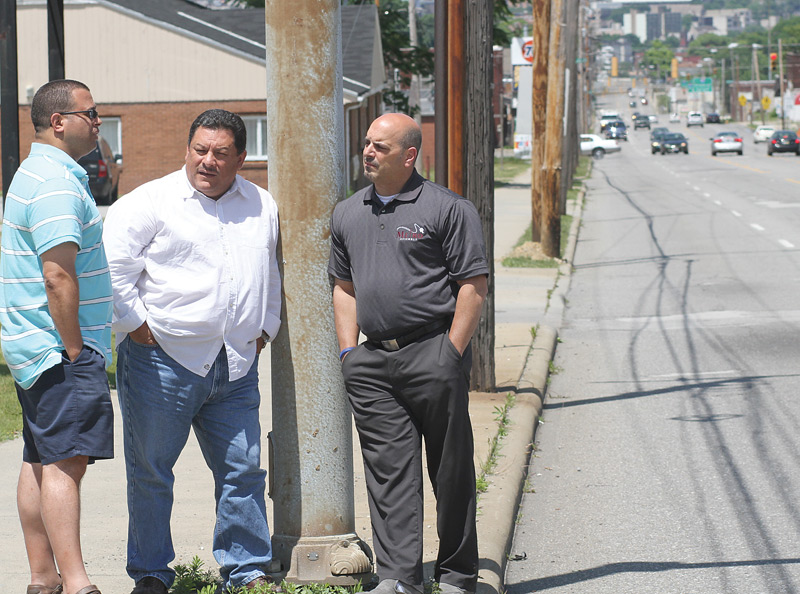 Photo
"Increase the Peace" is the theme of community-outreach activities that start Tuesday and continue through August by NOW Youngstown. Clergy involved in the effort to calm city streets are, from left, Pastor Rafael Cruz of Unity Baptist Church in Boardman and Pastors Rolando Rojas of Spanish Evangelical Church and Al Yanno Jr. of Metro Assembly of God, both of Youngstown.
By LINDA M. LINONIS
YOUNGSTOWN
A three-faceted effort involving prayer, police and social services will strive to quell the violence and calm the city streets.
About a dozen churches involved in NOW Youngs-town will operate under the umbrella of the Community Initiative to Reduce Violence (CIRV).
DeMaine Kitchen, chief of staff and administrative assistant to Mayor Charles Sammarone, said a city CIRV coordinator will soon be named.
Kitchen said the mayor and police department explored crime-reducing efforts elsewhere.
"The successful programs are built on a prevention initiative by law enforcement and faith-community involvement," Kitchen said.
The Rev. Dimas Salaberrios of Infinity Church, South Bronx, N.Y., a social activist, was enlisted to "energize local pastors," Kitchen said. His church is in the Bronx River Housing Project, where an epidemic of homicides went to none after he started a community effort to stop the violence. Kitchen said the Rev. Mr. Salaberrios met with local pastors in person or by conference calls for a few months.
Pastors Rafael Cruz of Unity Baptist Church in Boardman and Pastors Rolando Rojas of Spanish Evangelical Church and Al Yanno Jr. of Metro Assembly of God, whose congregations share a building at 2530 South Ave., have all ministered in the streets for more than a decade. They will have a prayer walk on the streets and community- outreach activities starting Tuesday and continuing through August.
The pastors said though they believe that the word of God can change lives, the outreach events also will offer practical help in areas such as education, drug rehabilitation, employment and pregnancy.
NOW Youngstown isn't based on an acronym but part of a passage in 2 Corinthians 6:2, "Now is the time of God's favor, Now is the day of salvation."
"The message at the outreach events will be 'you can't have peace on the outside if you have no peace inside,'" said Pastor Yanno.
Pastor Cruz said many young people "don't have a relationship with God. ... They have no standard of morality," he said. The pastor said a spiritual foundation would help youths understand that life is valuable and everyone has a purpose. "Change begins by the way you think," he said.
He continued that violent youths have low self-esteem and don't value life. "They think violence is power, but it's weakness." Choices determine who you are and what you become, he said.
Though many Valley churches partner in some activities, NOW Youngstown aims to bring churches together in a sustained effort. "We're sharing resources and manpower to work together," said Pastor Rojas.
Pastor Yanno said it's time for the "church of Youngstown" to step up and "address the problems plaguing the city." The church of Youngstown is charged with ministering to spiritual needs of people; denominations won't enter into it. "It's about the Gospel of good news," he said.
Pastor Cruz added, "People can find hope in a God who cares." The foundation of faith and support from community outreach will be the motivation to get a GED or job, he said.
Pastor Rojas said NOW Youngstown clergy realize the challenge of dealing with dysfunctional families. Though parents usually are role models for children, that isn't the example set by parents who are involved in crime or drugs.
"Targeting children and youths shows them another way," he said, noting he and his fellow clergy believe that "lives will change."
"The challenge is to be peacemakers," said Pastor Yanno.