Mill Creek's Miller — from frustration to jubilation — in 5 seconds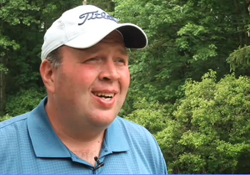 ---
Dennis Miller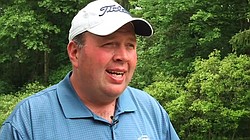 Video
Mill Creek Golf Pro Dennis Miller talks about the putt that qualified him for the U.S. Open.
By John Bassetti
bassetti@vindy.com
BOARDMAN
Dennis Miller will get his first glimpse of San Francisco next week. More importantly, he'll get to play in his first U.S. Open. It didn't happen easily as Mill Creek Golf Course's director of golf needed a miracle push on Monday in Columbus after his birdie putt from 20 feet away hugged the lip of the cup before disappearing into Scioto Country Club's 18th hole.
After such an ordeal and jubilation to conclude a 40-hole day of golf during a sectional qualifier which also included Ohio State's Scarlet Course, Miller didn't look any the worse for wear as he sat in his office at the Boardman-based course on Tuesday.
"It's always been a lifetime dream playing in a major championship like the U.S. Open," Miller said. "I'm 42 years old; I'm running out of time."
Of Miller's 12 attempts at sectional qualifiers over the years, he's reached seven times. This time, it was preceded by a local qualifier in Cleveland in mid-May.
"A storm that morning delayed my teeing off until 5 p.m.," Miller said. "I got 12 holes in, then I had to drive up the next day to finish the round. I actually birdied the last hole to get into a five-hole playoff to become the first alternate."
Miller's memorable day started with a late-night drive to Columbus and an early wake-up at 5 a.m.
"I was lucky I got in," he said of being the third alternate after he signed in at Scioto.
"I teed off at 7:50 and played 36 holes and tied three others, so it was four guys vying for three spots," he said of himself, PGA Tour pros Scott Piercy and Morgan Hoffmann and Justin Hicks (Nationwide Tour) after all shot 141s.
"I won the final spot on the fourth playoff hole and finished 14th after beating the other two guys with a birdie on No. 18."
Hicks missed out.
The field was a best-ever for Miller.
"I'd say so because, out of 138 players, at least 100 were touring pros," Miller said.
Driving is his strength, but other phases helped his rounds of 71 and 70.
"I hit a lot of good shots and I hit a lot of greens, but my short game really stepped up this time," Miller said. "That, under very difficult conditions [high rough and extremely fast greens] was probably the best two rounds of golf I've played.
"The Golf Channel calls it 'The Longest Day in Golf' because it's 36 holes — actually 40 for me."
As a club pro, advancing to the U.S. Open is extra special.
"Against the best players in the world — for someone like me who has a job, I think that speaks volumes for how I played."
He doesn't know much about the site of the event — the Olympic Club on the northwest tip of the San Francisco peninsula near the Golden Gate Bridge — but he knows that the USGA will try to make it fair.
"After Rory McIlroy's performance last year [at Congressional], I know they're going to toughen it up," Miller said. "But I think the USGA will sacrifice par to make the golf course fair.
"The U.S. Open never is easy, but he [McIlroy] sure did make it look manageable."
Miller said he got good advice from friends.
"They said I'll be amped up out there, so work on your routine: find the thickest rough, deepest grass I can find to get ready because the grass is going to be high."
Miller won the 1996 Ohio Open, which is a career highlight, but it has its place.
"It was a big thrill and I'm proud of winning that, but to qualify for the U.S. Open is a different level."
Because it was unexpected, Miller is scrambling to make travel arrangements for himself and his family.
"I'll have a courtesy car waiting and I can't wait to play. I've never been to San Francisco and I love the 49ers, so I'm looking forward to everything," Miller said.
"Not too many guys I know — for what I do for a living as a club pro — have the opportunity to play in a major championship," Miller said. "I hope I can make all the patrons here and all the residents of Mahoning County very proud."