Cuisines come together at the Phoenix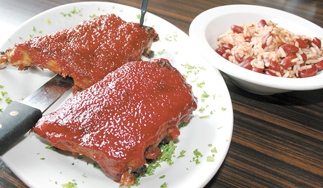 ---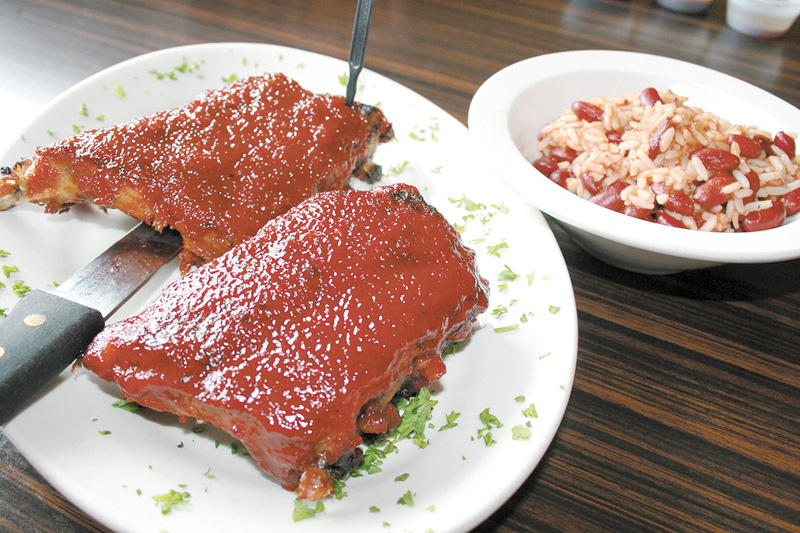 Photo
Baby Back Ribs with a side of Rice from the Phoenix Fire Grill and Bar.
When You Go...
Where:
Phoenix Fire Grill & Bar
5231 S. Canfield Road
Canfield, OH 44406
Phone: (330) 533-9999
Executive Chef and Owners: Brant Newton and wife, Jani
Hours:
M-Th: 11:30 am - 10 pm
F-Sa: 11:30 am - 11 pm
Su: 12 pm - 8 pm
Menu:
Appetizers: Tuna Carpaccio, $9; Asian Lettuce Wraps, $8; and Firebread, $5
Entree: Baby Back Ribs, half slab $11.50 and full slab $17
Dessert: Deep Dish Chocolate Chip Cookie, $4
Website:
Signature Dishes
When I started this gig I was wondering when a restaurant was going to deny the fact that it has one dish that is considered the best and not a bunch. That's exactly what executive chef and owner Brant Newton of the Phoenix Fire Grill and Bar had in mind.
This sig dish dining started with a parade of appetizers from all different styles of cuisine. Tuna Carpaccio placed on a bed of fresh lettuce covered in ginger soy sauce. Asian Lettuce Wraps that consisted of pan seared minced chicken, mushrooms and water chestnuts wrapped up in crispy leaf of lettuce. Accompanying this plate was Thai dipping sauce that was sweet on the tongue with a tangy finish.
Last out was Firebread. Just like the title this bread was like a mini calzone stuffed full of mozzarella cheese finished off with flaked red pepper to add just enough heat. All three appetizers stood alone in the flavor department but were consistent in quality, price and portion.
My goal this week was for a barbecue sig dish that was unique enough that it didn't taste like all the cookout foods we eat all summer. The Phoenix's baby back ribs were exactly what I was looking for. They prepared them in two different sauces.
I will get to those in a few lines, but first we need to analyze the ribs themselves. Cooking ribs is a bit of an art, and everyone has his own technique, whether it's low and slow or boil first then grill to finish. No matter the method we are all trying to achieve one thing, rib meat that falls off the bone. These baby backs did just that. With the most gentle of pressure the rib meat pulled away from the bone and just melted into your mouth.
The two sauces were very different in flavor from each other, but both had a nice consistent thickness and stickiness that can be found only from a true sauce-making expert.
One was a southwest barbecue, and the other a Hawaiian. Personally, the Hawaiian was my favorite based on its sweet and tangy flavors. Anytime you have a barbecue sauce that has a blast of fruit flavors, the marriage it will have to meat is one that won't end in divorce.
This eat-a-thon was finished off with what I consider one of the top five desserts I have ever had with the Deep Dish Chocolate Chip Cookie. All I need to say is the cookie was baked in a cast iron skillet.
Chef Brant really wanted to let me know that he can't cut his menu down to just one signature item. Jani, Chef Brant's wife, described their restaurant menu as an international one and without being overcome with choices, it really is broken down to great flavored dishes from all over the world. Next time you are in the mood for barbecue or a vast affordable menu be sure to check out The Phoenix.
Ross Morrone is on the lookout for the biggest, hottest and tastiest dishes in the Valley. Email him at rossmorrone@gmail.com and follow him on twitter @foodthirty.