Ex-convict faces charge of attempted murder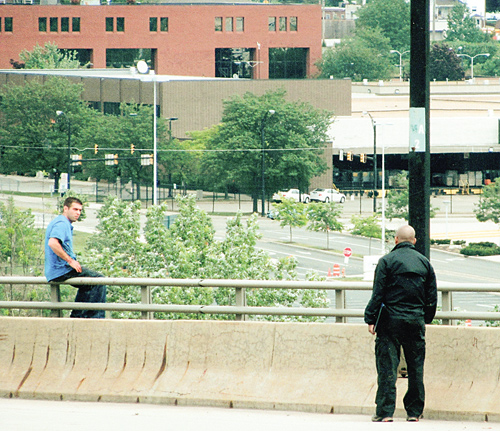 ---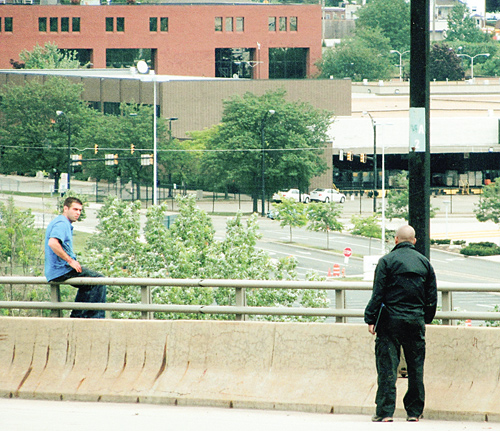 Photo
John Sylvester Jr. sits on the Market Street bridge Sunday as a police official talks with him. Sylvester was wanted for a stabbing incident in Boardman earlier in the day and fled to the bridge, where for four hours he kept police at bay with threats to jump before finally surrendering.
BOARDMAN
A township man who previously served time in prison for attempted murder is in Mahoning County jail and will be arraigned today on new charges of attempted murder and felonious assault.
John Sylvester Jr., 37, of Jaguar Drive, was taken into custody about 3:30 p.m. Sunday on the Market Street bridge in Youngstown, which he threatened to jump off after he reportedly stabbed his estranged wife several times at a Boardman residence.
Township Detective Sgt. Glen Riddle said Boardman dispatchers received a hang-up call from a home in the 7000 block of Jaguar Drive shortly after 11:30 a.m. Sunday.
"The police department called back, and we believe it was Sylvester who answered and he was saying 'There's no problem' and she was screaming in the background 'He's trying to kill me!'" Riddle said.
Officers went to the house and found Sylvester's wife covered in blood sitting in the front yard of a neighboring house, holding her 2-year-old son, reports stated.
"As she was running down the street, she looked over while she was the carrying the child and saw him leave as soon as she escaped. He knew the police were coming because of the 911 call," Riddle said.
The woman told police she and Sylvester, who wed in 2008, were supposed to take their son to see "Sesame Street Live," but got into an argument when she said she did not want to get back together with Sylvester, according to reports.
Police said the woman was cut on her hands, neck and shoulder. The boy was cut on his foot, and a family member took custody of him when his mother was taken to St. Elizabeth Health Center for treatment. Riddle said the woman is recovering from her injuries.
Police said they found a phone receiver and a knife, both covered in blood, on the kitchen floor of the Jaguar residence.
"We do believe that was the weapon," Riddle said, adding it will be sent to the Ohio Bureau of Criminal Identification and Investigation to be processed, along with other pieces of evidence.
Detectives interviewed several neighbors, one of whom said he was awakened by the victim knocking on his door asking for help.
When Sylvester was apprehended Sunday afternoon on the bridge, he was taken to ValleyCare Northside Medical Center for treatment under the watch of Boardman officers, police said.
Once treated, he was taken to the county jail and kept there without bond, records show. He will appear for arraignment in Mahoning County Area Court here.
In 1996, Sylvester was charged with attempted murder, aggravated menacing and menacing by stalking in the shooting of his 19-year-old ex-girlfriend who was shot multiple times in the head and torso outside her Boardman apartment complex, according to Vindicator files.
Sylvester pleaded guilty to attempted murder in 1999, and the other two charges were dismissed. He was sentenced to seven to 25 years with a three-year gun specification. He requested to be released early from prison in 2003, but was denied. Records of Sylvester's release date were not immediately available.