PHOTO: Boardman man nabbed after 4-hour standoff on Market Street bridge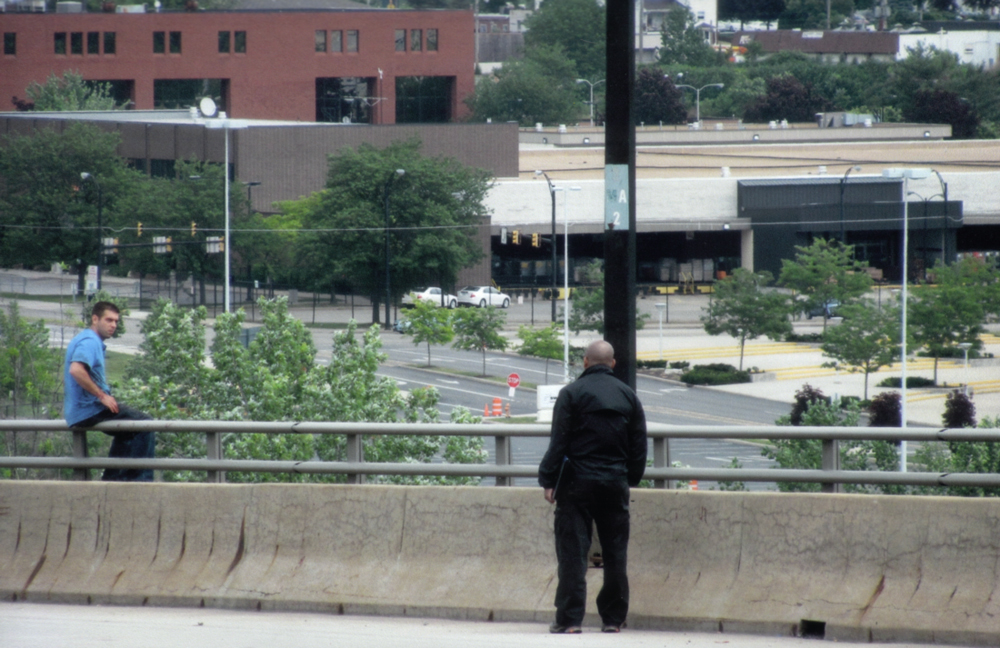 Photo
John Sylvester sits on the Market Street bridge Sunday as a police official talks with him. Sylvester was wanted for a stabbing incident in Boardman earlier in the day and fled to the bridge, where for four hours he kept police at bay with threats to jump before finally surrendering.
Staff report
YOUNGSTOWN
A Boardman man with a history of violence is in police custody and may face charges after reportedly stabbing his wife and threatening to commit suicide Sunday afternoon.
John Sylvester, 37, of Jaguar Drive, was taken into custody about 3:30 p.m. Sunday on the Market Street Bridge where he held officers at bay for about four hours while threatening to jump off the bridge. Police have not said what charges Sylvester may face.
Sylvester reportedly stabbed the woman in the Jaguar Drive home, then fled that area and ended up on the Market Street Bridge. When confronted by police, he dangled his legs over the side of the bridge and threatened to jump.
Sylvester sat on the bridge railing for approximately four hours threatening to jump and keeping police negotiators at bay. Police blocked the bridge to all traffic during the four-hour standoff. Paramedics were kept on standby in case he actually did jump from the bridge.
Police said Sylvester indicated that he did not remember the events in Boardman earlier in the day. He also reportedly told officers he did not want to go on living.
Police were able to coax Sylvester back on solid ground just before 3:30 p.m.
There is no word on the condition of the woman he reportedly stabbed.
Sylvester has previously spent time in prison on an attempted-murder charge.
According to court records, Sylvester was sentenced to seven to 25 years in prison in 1999 with a three-year gun specification for the attempted murder conviction. He petitioned the court for judicial release in 2003, but that request was denied.