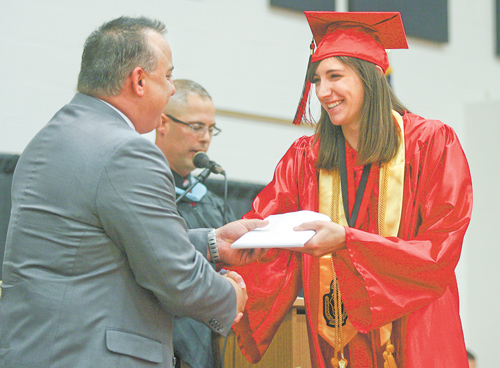 Photo
Co-valedictorian Bryanna Jay walks across the stage to receive her diploma during commencement for the Girard High School Class of 2012.
By Bob Jackson
GIRARD
As Girard High School's graduating class filed into the school gymnasium for commencement exercises Sunday afternoon, each of them had to stop and pick up a penny off their chairs before they could sit down.
The pennies had been placed there by Superintendent David Cappuzzello, who said they were symbolic of what the graduates were about to experience.
"It has your graduation year on it," Cappuzzello told the Class of 2012. "It is shiny, bright and new, just like you. It is symbolic of a new beginning. You are going into the world — shiny, bright and new."
He also pointed out that the front of the coins bear a picture of former President Abraham Lincoln, whose nickname is "Honest Abe."
"Truth is the foundation of thought," Cappuzzello said. "Be honest and true in whatever you do in life."
He noted that the words "liberty" and "In God We Trust" are stamped into each coin, which also are symbolic.
"You have the freedom to explore, learn and challenge yourselves," he said. "And you need to trust in someone or something."
Cappuzzello's comments were made during Girard High School's 129th annual commencement ceremony, his first as superintendent. The ceremony was to have been outdoors at Arrowhead Stadium but was moved inside because of the threat of thunderstorms.
The graduates — girls wearing red caps and gowns, and boys in black — were greeted with cheers from their families and friends as they filed into the gym, and again as each took his or her turn walking across the stage to accept a diploma handed out by Assistant Principal John Spano.
For 18-year-old Jessica Crago, it was her second shot at making the graduation walk; she'd already participated in commencement exercises at the Trumbull County Career and Technical Center, where she studied equine science. She plans to study veterinary technology, probably at Kent State University, because she loves animals.
"To be honest, I'd rather live with animals than with humans," she said, laughing, before the ceremony.
Her mother, Rebecca Crago, said Sunday was a bittersweet day because her youngest child was leaving high school behind and moving on to life as an adult.
"The tears have been building up," she said. "I'm up and down with the emotion of it."
Tricia Beil, 18, appeared to be striding with confidence toward the high school, but it turned out she was just in a hurry.
"I'm running late," she said, laughing. "I just woke up at 12:45."
Beil said she will attend Youngstown State University to study nursing, a profession that her grandmother and aunts have practiced.
"I'm nervous and excited," she said as she walked into the building. "I just hope I don't fall going across the stage."
She didn't.
Zach Teter and Joshua Danko exchanged high-fives and fist bumps with friends outside the school before going inside for the main event.
"I'm pretty pumped up right now," said Danko, 18, who was class treasurer. "The adrenaline is flowing. I'm ready to go." He'll also attend YSU to study biology.
Teter, 17, who will study engineering at Robert Morris University in Pittsburgh, said Sunday marked the end of a long road — and the beginning of his adult life.
"I'm going to go to college, get a degree, get a good job, get married and start a family," he said. "That's what it's about."
DeTwan Walker, 18, strolled into the school sporting a pair of spiffy looking red and white wingtip shoes that he'd bought just for the day. Even though he'd played sports in front of large crowds at Girard, Walker said Sunday's activity made him nervous.
"Everybody else is nervous, and that's making me nervous," he said with a shy laugh. Walker said he will attend Westerminster College in New Wilmington, Pa., where he'll study international business and play football.
And if the graduates need it, they'll each have a shiny new penny for luck.