Many East grads vow to help others
---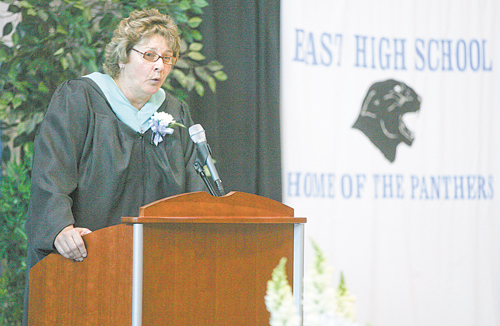 Photo
East High Principal Holly Seimetz speaks to graduates and their families during the East High School commencement Sunday.
YOUNGSTOWN
East High School graduating seniors donned cap and gown for commencement Sunday, leaving high school behind and looking at a new chapter in life. For several, that includes careers devoted to helping others.
One by one, the 164 graduates of the East High School Class of 2012 filed through the school gymnasium to receive diplomas. Principal Holly Seimetz said the senior classes decided to have commencement at the school — something that has not been done in many years.
"Our students wanted to have it here, and we wanted to do what they wanted. They have a lot of memories here," said Seimetz. "This school is full of memories, and I am glad the students can share them here one more time."
The 2012 class will likely hold memories for Seimetz as well. The 2012 seniors were freshmen when Seimetz became principal at the school. She said it has been a special joy watching the students progress from freshmen to young adults.
For many of the graduates, education will not stop with the diploma from East High School. Most have plans to continue onto college or the military, and several envision a career devoted to helping other people.
Class Valedictorian Davonta Fleetion spent his high school years playing three sports and maintaining high marks in the classroom. He will continue his studies and play football at Hiram College in the fall with plans on becoming a physical therapist.
"I have always been into the health aspect of things, and I have been researching physical therapy since I was younger. I just decided it was best to choose that field," he said.
Amber Reed, a member of the National Honor Society, will attend Queens University of Charlotte in the fall, and said she, too, is looking to help others by studying nursing with a minor in pre-medicine.
"I just have a passion for helping people, and when you want to help people the best field to be in is the medical field," she said just before commencement.
Reed said she is going to miss high school, particularly her best friend Jerrica Henry, who will attend Youngstown State University in the fall.
Henry said she also is looking to help others in her chosen career, but the medical field is not for her. She will be majoring in pre-law at YSU.
"This is something I have wanted to do since I was 7 years old. I want to help people. I want to defend people and help them get their point across," she said.
The graduates also took time out to say an emotional goodbye.
Senior Class Adviser and longtime teacher Jerron Jenkins has announced that he will retire after this school year. Seniors presented Jenkins with a gift of appreciation and a card during the commencement.
There was also a moment of silence during the service for Trevon Kimbrough who would have been an East High School senior this year. Kimbrough, 18, was killed earlier this year before he could make the walk with classmates.
Speakers at the ceremony also included Andrea Mahone, vice president, Youngstown Board of Education, and Lock Beachum, president, Youngstown Board of Education.