WATCH VIDEO: Mill Creek's Miller qualifies for U.S. Open
Watch Golf Channel Video here of Dennis Miller.
Vindy archive video: Jason Kokrak relates stories of being a caddy for Dennis Miller and hopes he can repay the favor someday.
Dennis Miller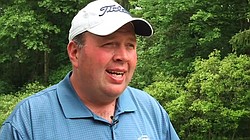 Video
Mill Creek Golf Pro Dennis Miller talks about the putt that qualified him for the U.S. Open.
Mill Creek Golf Director Dennis Miller sank a 20-foot putt on the fourth playoff hole of the U.S. Open Sectional Qualifier in Columbus on Monday and will play in the national tournament next week in San Francisco.
Miller, 42, played the Scioto Country Club course in 1-over 71, and the Ohio State Scarlet Course in 1-under 70 to finish tied for 14th. He and three other players went to a playoff to determine the final two qualifiers.
Read the story in Tuesday's Vindicator and on Vindy.com.