Youngstown firefighters battle 13 fires in 20 hours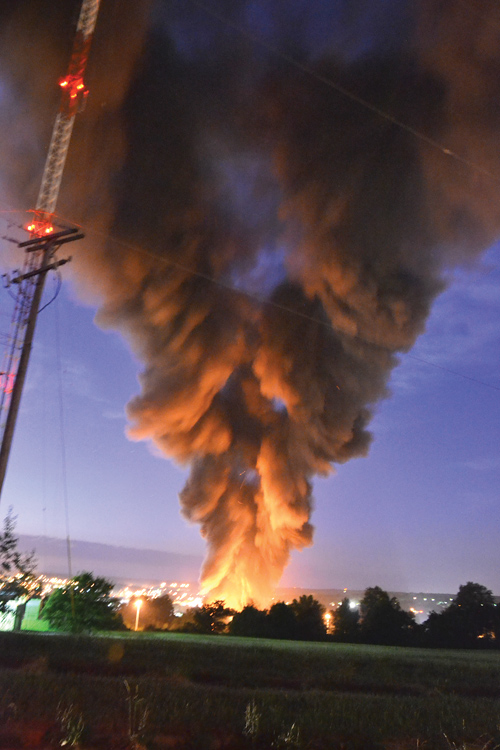 Photo
This fire at the RRI tire recycling plant on Brittain Avenue near Poland Avenue was the second of 13 fires in the city late Wednesday and early Thursday.
RELATED: • Arsons ignite dangers for firefighters, chief says
• Home of Volney Rogers burns in city fire spree
By JOHN W. GOODWIN JR. | jgoodwin@vindy.com
YOUNGSTOWN
A 36-year-old city man with a history of setting fires to vacant buildings is to be arraigned today in connection with multiple arsons that kept firefighters busy Thursday morning.
He may not, however, be the only responsible party.
Thirteen fires Wednesday night and Thursday morning in a 20-hour period kept firefighters busy and endangered emergency personnel.
Spencer Morris Washington, 36, of Falls Avenue is to be arraigned in Youngstown Municipal Court charged with arson. He was arrested Thursday morning. Washington is accused of setting fire to vacant homes at 343 Falls Ave. and 362 Breaden Ave., both owned at one time by his grandfather.
Washington's father, Spencer Morris, said he knows his son's motive: Anger.
"He did it to get back at me," Morris said.
Morris said he got into an argument Wednesday with his son, who has previous substance-abuse problems and previously has been convicted of arson.
Morris said his father lived in the house from 1959 until 2005, when he died at 104. He said Washington has tried to strip the houses, which were vacant and in disrepair, in the past.
Washington in 2001 was charged with arson. According to court filings, he later pleaded guilty to attempted arson and was sentenced to 180 days in the Mahoning County jail. He also has been arrested in the past on charges of robbery, illegal possession of a weapon, carrying concealed weapons and possession of drugs.
Arson Investigator Alvin Ware said investigators are trying to determine if Washington is responsible for all of the fires.
"They basically were all set in the same way," said Ware. "I can say he committed at least two of them, but he is still a person of interest in all of the others since they all were in the same general area."
If Washington is responsible for the burning of the two houses owned by his family, that still leaves nearly a dozen fires set in that brief period for which police and fire investigators want answers.
The first fire to be set was at 2939 Hudson Ave., followed a few hours later by a fire at the RRI tire recycling plant, on Brittain Avenue off of Poland Avenue. The fire started just after 10 p.m. with black smoke filling the air around the area.
Fire Chief John O'Neill said he does not believe the RRI fire is related to the rash of arsons at vacant houses on the South Side, but the department is still investigating what caused the fire.
Starting only a few hours after the fire at the tire recycling plant, firefighters were called to Falls Avenue — the first in a series of fires at vacant homes on the South Side. From that point crews battled blazes on Myrtle, Parkwood, Breaden, Overland and Glenwood avenues.
O'Neill said fire crews did a stellar job handling the multiple fires. Neighboring departments in suburban communities were on standby ready to help, but Youngstown handled the actual calls as they came in.
"We had some of these calls coming in two at a time. These guys were just beaten up. We have backup crews following backup crews. We had reserve trucks filled with backup personnel," said O'Neill.
Today the only traces left of the Thursday morning mayhem are the chimneys. For most of the fires, crews let the structures burn, containing the flames until nothing was left but small pieces of charred wood, concrete steps and those brick chimneys.