Mathews Mustangs make it to final game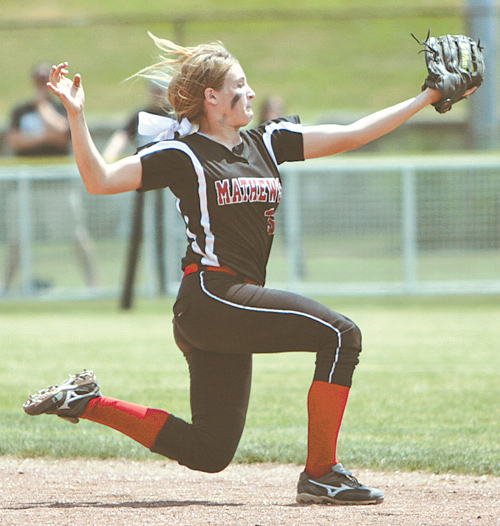 Photo
Mathews shortstop Jessica Marsico makes a sliding catch in right field during the seventh inning of the Division IV state softball semifinal against Covington on Thursday at Firestone Stadium in Akron. A couple of bloop hits combined with a three-base error on a sacrifice bunt to propel the Mustangs to a 5-3 win in their biggest game to date in school history. Marsico drove in two runs.
Mustangs make it to final game
By Tom Williams
AKRON
Solid defense, a couple of bloop hits and a three-base error on a sacrifice bunt combined to propel the Mathews High softball team to its biggest win in school history.
Junior shortstop Jessica Marsico drove in two runs plus made a sliding catch in right field in the seventh inning to help the Mustangs (25-5) defeat Covington, 5-3, in Thursday's Division IV state semifinal game at Firestone Stadium.
"I'm still a little numb," Marsico said about playing Convoy Crestview in Saturday's state championship game. "It will [sink in today] at practice."
The Mustangs were making their first state appearance while the Lady Buccs (25-5) were at state for the second straight year.
"It's just unbelievable," first-year Mathews coach Jim Nicula said. "From the first pitch to the last pitch, [we] played lights-out defense."
Winning pitcher Cheyenne Eggens (24-3), a freshman, struck out six batters, walked two and gave up eight hits. She received plenty of support from her defense.
Twice, catcher Hollie Shreves threw out Covington speedster Heidi Snipes trying to steal second base (the only times Snipes was caught this season).
In the second inning, first baseman Maddie Grimes fired the ball to third baseman Jacki Rhine who tagged Cassidy Cain trying to advance after Morgan Arbogast's bunt single.
"I am so proud to have a strong defense to back me up because honestly, it proved in this game that I can't strike everyone out," Eggens said. "I just can't."
Mathews took a 5-1 lead into the bottom of the seventh inning when the Lady Buccs made some noise. Cainreached first after a sharp hit that Eggens knocked down but could not field in time for a throw.
After Arbogast singled, a sacrifice bunt put runners at second and third base.
Jessie Shilt popped the ball into shallow right-center field where Marsico raced to her left to catch it on a slide just before colliding with center fielder Tabby Granelly.
"I just stuck my glove out — we ended up running into each other but I ended up getting it," said Marsico who said she didn't bobble it. "Boom! I had it."
Eggens retired Snipes on a popout to end the game.
"They got their swings in, we knew they were going to hit Cheyenne some," Nicula said. "And we knew they were going to try and play small ball."
The Lady Buccs had baserunners in every inning until the sixth. Four were stranded.
"Every one of our defenders in the infield made one if not more lights-out plays, just tremendous," Nicula said. "We were on the ropes the whole game."
Offensively, the Mustangs shook off some jitters when they took a 1-0 lead in the third inning. Grannelly blooped a single into right field then scored when Marsico's double rolled to the right-center field fence.
"We've got great hitters, too, and I know once we got around there a little bit, we were going to put the ball deep," Nicula said.
The lead grew to 3-0 in the fifth inning after Maddie Williams reached base on a bloop hit to right field.
Covington catcher Connor Schaffer picked up Maddy Nicula's sacrifice bunt and threw it past first baseman Arbogast, allowing Williams to score and Nicula to reach third.
Nicula then scored when Marsico grounded into a double play.
In the seventh inning, Williams singled and came home on Granelly's base hit. Marsico brought Granelly home with her second hit.
"Once we got them rattled a little bit, I think it played into our favor," Nicula said.