Champion rallies from 4-run deficit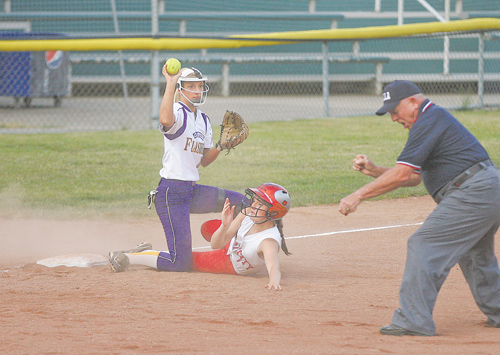 ---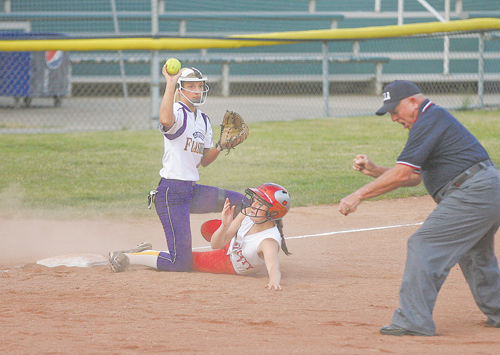 Photo
Champion's Darian Rogers (4) holds up the ball to prove possession after tagging out Felicity-Franklin's Sandy Woodmansee (1) during the bottom of the first inning of the Division III state softball semifinal Thursday at Firestone Stadium in Akron. The Golden Flashes rallied from a 4-0 deficit to defeat the Cardinals, 6-4.
AKRON
Everything was all too familiar for the Champion and Felicity-Franklin softball teams.
From the high number of hits, to a great outfield catch. Even from how the game was won (or lost, rather) to the way the Golden Flashes walked out of the locker room and on to the bus.
"We have been behind before," Champion coach Cheryl Weaver said. "And even last year we took the long way around the stadium to get out."
And her Flashes are going back to the state championship game after a come from behind, 6-4 win.
"The girls know my motto — it's never say die — and we keep fighting back," Weaver said. "I kept telling them that, they know the words and they kept saying it. And they did it."
In a handful of games this year, Champion was behind early and on Thursday it was again with a 4-0 deficit by the fourth inning. The Flashes committed four errors over those frames. A delayed start by an hour and 45 minutes may have played into the shaky start.
"I felt like it was just dragging out so that kind of made it rough actually being in the game," pitcher Lindsay Swipas said of the prior game between Edison and Bloom-Carroll at Firestone Stadium.
"Everything was working fine; it was just a couple of errors that got us frazzled."
The Flashes finally broke out in the fifth inning when Brooke Culler led off with a walk. A single by Haley McAllister brought her home, then Hailee Gardiner's triple scored McAllister.
The parade continued in the sixth with Emilee Hohvart ripping a single and Alison Sorber reaching on an error. Then, Culler's deep knock to right-center field scored them both to tie it.
"I was really calm when I went up to bat and I knew that I had to hit the ball," Culler said. "I was confident in myself and I hit it."
She'd come around to score for the 5-4 lead on Swipas' double to center field. Champion added one more in the seventh on another Culler RBI.
"We're notorious for doing this," Felicity-Franklin pitcher Montana Wear said of losing a sizeable lead. In last year's regional final, the Cardinals led 4-0 before falling 8-4.
"I started off the game and they weren't hitting or they were just little duds," Wear, a Wright State recruit, said. "When they got through the lineup three or four times, they were catching up."
Wear had just five strikeouts, with three of them coming before the Flashes got on their rally. Culler and Weaver both agreed that they were chasing bad pitches.
"Her pitch right down the middle looked really good and she was throwing that at least once to every girl," Culler said. "We just had to be selective."
Champion (23-3) tallied 15 hits in a game earlier this season, but also tallied 11, like it did last week in a regular season, 10-9 loss to Poland.
"[Poland coach] Reid Lamport told us, 'If you girls hit like that in the state game, you're not going to have a problem,'" Weaver said.
"The girls seemed to hit [Wear's] speed pretty well. I was just happy we were hitting her and the girls were finding something to drive."
One drive, by a Felicity-Franklin batter, almost dug the Flashes an even deeper hole.
In the fifth inning, a deep shot to center field by Jordan White made Hohvart get on her horse and track it down. With a slight turn to her left, the junior secured the basket catch.
"I thought it was gone," Swipas, who had nine strikeouts, said. "I was so glad it stayed in. I didn't think she caught it, she grabbed it at a weird angle."
It was a flashback to last year's state title game when left fielder Taryn Hanna made a similar running catch.
"When Emilee did that I was just, 'yeah,'" Weaver said. "It happened in big games before and I thought now, it's going to start coming our way."
Felicity-Franklin coach Rob Wear said it was one of the best catches he's seen.
"She made a great catch in center field. I even told her," he said. That's what it's about — in the end — it's about the kids and there's got to be a winner and a loser."
It was the Cardinals' (24-1) first trip to a state final four in any sport.