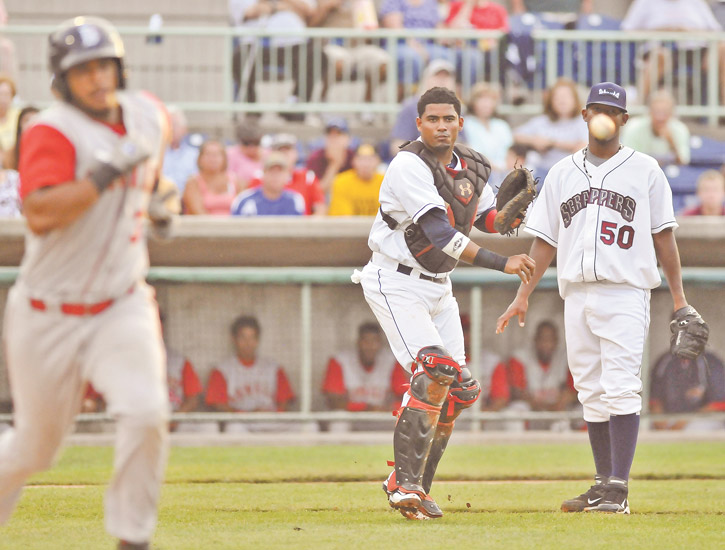 ---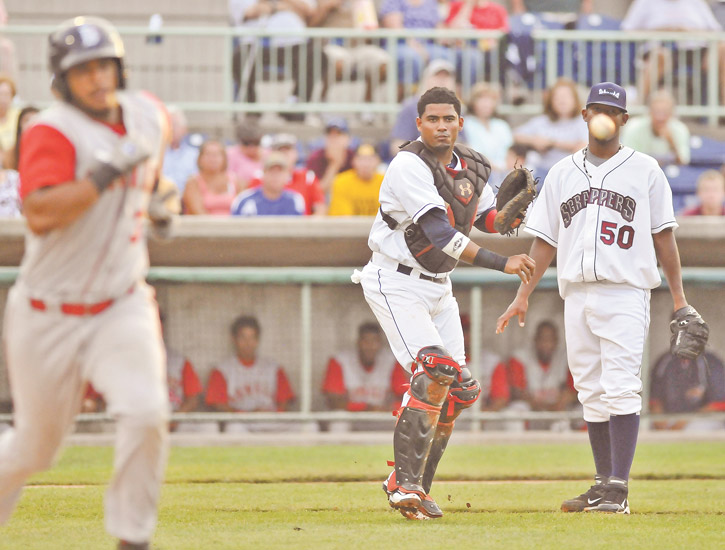 Photo
Mahoning Valley Scrappers pitcher Luis Morel watches as catcher Charlie Valerio (16) fi res the ball to fi rst base to get Brooklyn Cyclones base runner Alex Sanchez out during Monday's New York-Penn League game at Eastwood Field, Niles. The Scrappers fell to the Cyclones, 5-1.
Cyclones starter Lara strikes out 10
By Jon Moffett
Niles
Tyler Naquin is a lot of things — a first-round draft pick of the Cleveland Indians, an up-and-coming prospect and a locker room leader.
But one of the things he isn't is a liar.
Naquin said it would be far from the truth if he said the Mahoning Valley Scrappers' recent struggles weren't frustrating. But, he said, speed bumps are the hardest part about learning to drive.
"I'm not going to lie, your body hurts every day," the center-field prospect said after Monday's 5-1 loss to the Brooklyn Cyclones at Eastwood Field. "You've got to keep your body as fresh as you can.
"Maintaining your strength — not trying to put on weight or anything, but just maintaining what you've got to play at the highest level.
"One day your bat might feel heavy so you might have to compensate with a better feel, maybe not swing with a weight on in the on-deck circle, or maybe try to cheat it a little bit between an outfielder or an infielder," Naquin said.
Naquin was the only Scrapper with a heavy bat in Monday's game. Naquin had three of the team's four hits.
Pitching was the story again as the Cyclones (25-17) were able to shut down the Scrappers' (21-20) bats (except for Naquin's).
Brooklyn starter Rainy Lara was dominant, throwing seven strong innings and giving up one run on three hits — two to Naquin, including a double. Naquin later came around to give the Scrappers their lone run.
Lara (5-1) had 10 of the team's 13 strikeouts. He didn't walk a batter and showed a strong command. Fifty-nine of his 89 pitches were strikes.
Manager Ted Kubiak said the Cyclones' ability to make quick innings was the difference.
"They've got some good arms over there, there's not doubt about it," Kubiak said. "It's hard to beat them. [Tyler] Naquin could figure them out, but not many other guys could."
Scrappers starter Luis Morel allowed four runs — two earned — on four hits. Morel (2-2) walked three and struck out three.
Brooklyn leadoff man Brandon Nimmo continued to dominate the Mahoning Valley arms. He had two doubles as part of his three hits and scored twice. Nimmo was 8-15 in the three-game series.
The Scrappers' leadoff man, Jairo Kelly, however, continues to struggle. His three strikeouts added to his team-leading 48 strikeouts on the season. That figure is good for third-most in the New York-Penn League.
Naquin said he puts some added pressure on himself to be a leader because of his draft position. And again, he couldn't tell a lie.
"I'd lie to you if I said there wasn't pressure," he said. "Being taken in the first round is a opportunity and a blessing. But sometimes you feel it a little bit."
CYCLONES 5, Scrappers 1
BrooklynScrappers
abrhbiabrhbi
Nimmo cf5231Kelly ss4000
Rodrigu 2b4100Naquin cf4130
Boyd 1b5022Wendle 3b4000
Sanchez dh4010Valerio c4011
Sabol lf5012Vick dh3000
Zapata c4000Siliga lf3000
Gamboa ss3010Nilsson 1b3000
Ponce 3b4000Romero rf3000
Pina rf3220Garcia 2b3000
Totals375105Totals31141
Brooklyn002021000—5
Scrappers100000000—1
E—Wendle (7). DP —None. LOB—Cyclones 9, Scrappers 3. 2B—Nimmo 2 (13), Boyd (6). SB—Pina (5). CS— Gamboa (3).
IPHRERBBSO
Cyclones
Lara W, 5-17311010
Wynn100002
Sewald110001
Scrappers
Morel L, 2-24.144233
Aviles2.241110
Homblert110000
Wagoner110001
Umpires—Home, Ryan Benson; Bases, Brian Peterson. T—2:42. A—2,485.