Dinner honors Mr., Mrs. Kroner for 60th event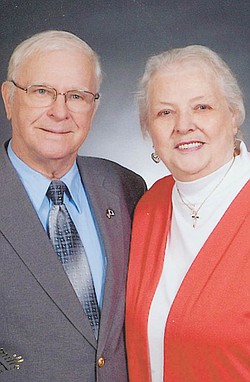 Photo
Mr. and Mrs. Richard Kroner
BROOKFIELD
Mr. and Mrs. Richard Kroner of Brookfield were guests of honor for their 60th wedding anniversary during a family dinner July 7 at Hickory Grille in Hermitage, Pa.
The former Mae Jackson and Mr. Kroner were married July 9, 1952, in Yuma, Ariz.
Mrs. Kroner is a homemaker and member of the 32nd Club.
Her husband retired in 1992 as a mail carrier in Brookfield with the U.S. Postal Service. He served in the U.S. Air Force from 1947-52. Mr. Kroner belongs to Masonic clubs.
They are members of Hubbard Presbyterian Church, where they are deacons and elders.
Their children and spouses are Richard and Frani Kroner, Bob Kroner, and Ronald and Virginia Kroner, all of Brookfield; Randy and JoAnn Kroner of Transfer, Pa.; and Roger and Darlene Kroner of Sharon, Pa.
Their grandsons are Craig, Ron and Ken Kroner; one grandson is deceased. The family includes six stepgrandchildren, six step -great-grandchildren and two step-great-great-grandchildren.
Mrs. Kroner's brother, Eugene Jackson of Marion, Texas, and his wife, Olamae, were dinner guests.
The Kroners also took a trip to Hanover, Pa., to visit relatives.