Park program offers summer fun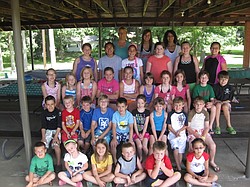 Photo
Neighbors | Abby Slanker.Participants in the Canfield City Summer Park Program met their counselors, from left to right, (back) Stephanie Ensley, Colette Frazzini and Teddi Frazzini, at Greasel Park for three weeks in June for some summer fun.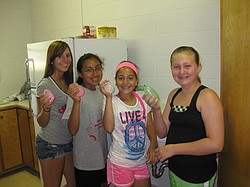 Photo
Neighbors | Abby Slanker.From left to right are Teddi Frazzini, Fionna Lally, Julia Petrallo and Nicole Joseph, who filled up water balloons on Water Day at the Canfield City Summer Park Program at Greasel Park June 22.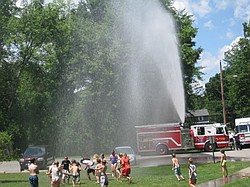 Photo
Neighbors | Abby Slanker.The Canfield Fire Department came to Greasel Park to help Canfield City Summer Park Program participants beat the heat by spraying them with their fire hoses during Water Day June 22.
By ABBY SLANKER
The Canfield City Summer Park Program at Greasel Park was offered free to Canfield Local School students, as well as city or township residents who have completed kindergarten through age 12 from June 11-29.
Colette Frazzini, Stephanie Ensley and Teddi Frazzini were the program counselors for the approximately 30 children who attended the program.
"The children are all having a good time. We have fun with them. We do get a lot of children who participate each year. The older kids help with the younger kids, which is nice to see," Ensley said.
Children attending the program were able to play on the playground at the park, play kickball, do crafts and activities, hula hoop and play board games. According to Ensley, Bingo was a favorite this year.
"The kids could not get enough Bingo," she said.
Speakers were invited to the park on certain days, including the Canfield Police K-9 Unit and Bike Unit. The children went on field trips to the library, J.R. Grinders and Dairy Queen.
The children also enjoyed special days. For example, a day was designated as Water Day and attendees were told to wear their bathing suits and bring water toys. The Canfield Fire Department came to the park and hosed the participants down. A Hot Dog Day was held with hot dogs provided and cooked on the grill for lunch with the children bringing a side dish to share. Ice Cream Day was scheduled with ice cream provided and the children were to supply their favorite toppings.
Attendees also had an opportunity to tour the Mill Creek MetroParks Experimental Farm on the last day of the program.
Frazzini said the program has been in existence for at least 15 years.
"My daughter, Teddi, who now helps us out with the program, attended it when she was a child. Stephanie's daughter also attended when she was little," Frazzini said.