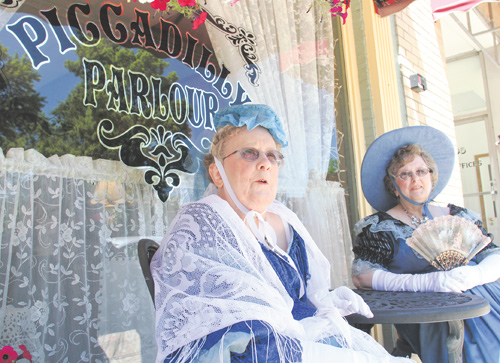 Photo
Sisters Barbara Urich, left, and Eleanor Urich sit outside Piccadilly Parlour in Canfield on Wednesday afternoon. Wish of a Lifetime, an organization that grants wishes for senior citizens, helped Barbara Urich fulfill her dream to wear a Victorian-era gown during lunch with her family.
By Elise Franco
Canfield
Barb Urich, 74, spent Wednesday wearing clothes from an era she'd only ever dreamed about.
Urich, a resident at the Sterling House assisted-living facility in Salem, is a lover of Victorian style and culture and often admires the Victorian-era paintings in the halls of Sterling House.
Her dream to wear a Victorian dress was granted Wednesday through Wish of a Lifetime, a wish-granting organization that partners with Brookdale Senior Living, the company that owns Sterling House.
"I've been looking at the pictures for quite a while," she said. "This means a lot, it really does, because I never thought I would get to wear [a Victorian dress] myself."
Kimberly Bland, sales and marketing manager for Brookdale, said Sterling House employees helped Urich choose her wish based on her love of those paintings.
"She always comments on how beautiful the women in the paintings are," Bland said. "So that helped decide what her wish would be."
Urich and her sister Eleanor Urich, 70, were treated to manicures, as well as hair styling and makeup, before donning their fancy attire and meeting friends and family at Piccadilly Parlour in Canfield for lunch and tea.
Urich said she was so happy to be granted her wish and wear a Victorian dress for the day.
As her guests gathered around the table, Urich fawned over the 1890s Southern belle-style gown and accessories, such as white satin gloves, a bonnet and large jeweled necklace.
"They're the most beautiful; I've never seen a more beautiful dress," she said. "I like it so well, and I wish I had one of my own."
Bland said the turnaround on granting Urich's wish was about three months, which is relatively fast.
"The company has done a number of wishes for our residents," Bland said. "But they got right to granting this one because they felt it was a very unique wish."
Claudia Zacharko, owner of Piccadilly Parlour, said she was thrilled to accommodate Urich.
"She asked, specifically, to have everything here," Zacharko said.
She said the purpose of her tea room is to give people a place to sit and talk with one another, away from the hustle and bustle of everyday life.
"What I do is a blessing, and what I have is a blessing," she said. "It feels very rewarding for something so simple to mean so much to her."