Published: Wed, July 25, 2012 @ 12:00 a.m.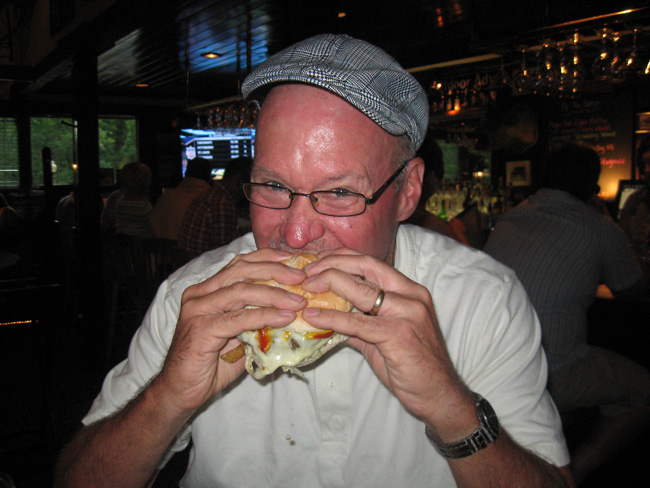 Photo
Scott Long takes a bite out of his Pittsburger at the Iron Bridge Inn.
When You Go...
Where:
Iron Bridge Inn
1438 Perry Highway
Mercer, PA 16137
Phone: (724) 748-3626
Hours:
Mon - Thurs 11am - 10pm
Fri - Sat 11am - 11pm
Sun 10am - 10pm
Menu:
6 Burgers ($6.99-$11.99) and a Turkey Burger
Website:

Photo
Barby Ferraro serves up some tasty Iron Bridge Inn burgers. Clockwise from left are The Western Burger, The Pittsburger and the Big Greek Burger.
By Anthony M. Fuda
A good leader leads by example, and if the Iron Bridge Inn's burger is any indication of the Springfield Group, then they have created a formidable empire.
The Springfield Group includes Rachel's Roadhouse, The Log Cabin Inn, Hickory Bar and Grille, and three separate Springfield Grilles with locations in Mercer, Boardman, and Mars.
The Iron Bridge Inn is the charter member the Group. It was a run-down bar purchased by John McKinley and Bill Kingery in 1979. Kingery has moved on, but McKinley still owns the family friendly eatery.

The rustic decor of the Inn was evident as we were greeted by a giant moose head mounted on the wall above the hostess area. The restaurant was packed with people at every table and every bar stool.
After finding a comfortable table in the restaurant, our waitress, Barby Ferraro, energetically took our orders and readied us for a great burger evening. After finding out who we were, she was happy to tell all her co-workers she was waiting on the Burger Guys.
The burger selection consists of five half-pound burgers: The Classic (choice of cheese, mushrooms, bacon, onions, green peppers or jalapenos..just .50 each), the Pittsburger (coleslaw, hand-cut fries, provolone), The Big Greek (feta-cheese stuffed, greens, roasted red peppers, sun-dried tomato pesto), the Western Burger (house BBQ, bacon, cheddar, caramelized onion), and the Four Alarm Burger (Cajun-grilled, hot sauce, jalapenos, pepper jack cheese).
The burgers are served with lettuce, tomato and onion on a fresh baked Cellone's Roll, with your choice of hand-cut fries, coleslaw, homemade potato chips or redskin potato salad. For $1 more, you can have onion rings or sweet potato fries. All of us had the hand-cut fries and were pleased with the large portion.
If you are adventurous and have some extra compartments in your stomach you can try one of their most popular burgers - the Junk Burger. Boasting 12 ounces of beef and topped with bacon, sautéed mushrooms, Swiss, provolone and American cheeses, marinara, shaved onion, yellow pepper rings, lettuce and tomato, this burger is made for the heartiest of appetites.
We made our choices and looked around the dining room at the hunter's trophies hanging on the walls. You know, the typical boar head, deer head and rattle snake skins you find at your mom and pop establishments.
The burgers arrived and we were down to business. We all agreed the char-grilled flavor of this burger really stood out compared to the many other burgers we have tried.
I had the Big Greek Burger and the feta cheese grilled inside the burger was something different and really good. The meat and cheese blend was very savory. Combined with the greens, roasted red peppers and sun-dried tomato pesto, this burger had just enough bite to leave you wanting more.
Scott had the Pittsburger and said, "This burger is the whole package. The topping really make this burger and everything combined together is great."
This was not JT's first meal at the Iron Bridge, but it was his first burger there. He said, "I've stopped at the Iron Bridge several times, but never tried their burger. I had the Western Burger and loved it, even though I'm not a fan of shredded lettuce. I'm really glad they made our hit list because it's one of the best seasoned burgers I've had."
If you are in the Mercer, Pa area, you have to stop at the Iron Bridge and have one of these tantalizing burgers. Or after making a day of walking around the Grove City Outlets, head down the road a little and replenish yourself with a tasty burger from the Iron Bridge. Either way, your stomach will thank us.
4 stars
Keep sending us all your great burger suggestions to mvbrb@hotmail.com, and like the Facebook page Burgerguyz so you can keep up with all the freshest burger news.