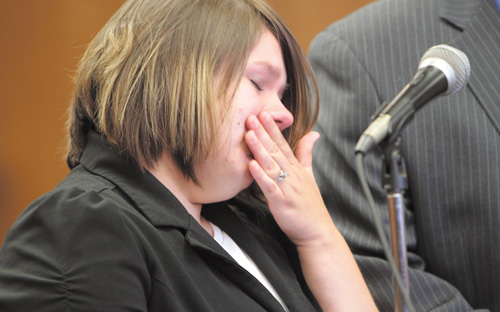 Photo
Samantha Yoder of Alliance tries to contain her emotions as she stands before Judge Robert Douglas of Youngstown Municipal Court at her Monday sentencing for vehicular homicide. She was sentenced in the death of Susan Welsh in a Feb. 14 auto accident near Youngstown State University, where Yoder is a student.
YOUNGSTOWN
A 21-year-old Youngstown State University student from Alliance has been sentenced to five years' probation, with 250 hours of community service, and given a five-year driver's license suspension after a fatal Feb. 14 accident at Fifth and Rayen avenues.
Samantha Yoder also was fined $1,150 on misdemeanor charges of vehicular homicide and failure to obey a traffic control device.
Although she could also have been jailed for up to 180 days, she will not serve any jail time.
Yoder drew the sentence Monday from Judge Robert Douglas of Youngstown Municipal Court.
Yoder had earlier pleaded guilty as charged in the crash that killed 45-year-old Susan Welsh and seriously injured her 79-year-old mother, Elaine Welsh, who attended the sentencing while still recovering from her injuries.
Susan Welsh was a passenger in a car driven by her mother, which was westbound on Rayen about 3 p.m., when it was struck by the car Yoder was driving, which was southbound on Fifth Avenue near YSU.
Yoder went through a red light while talking on her hand-held cellular phone, according to her lawyer, Derek Lowry.
Judge Douglas ordered Yoder to publicly advocate during her community service, through an organization, such as the American Automobile Association, for nonuse of hand-held cellular phones while driving.
"There are really no words to express how I really feel about this. I am sincerely sorry. I wish I could go back and change whatever happened that day," Yoder told Judge Douglas before he pronounced sentence.
Bob Welsh, brother of Susan Welsh, who divides his time between Columbus and Germany, described his sister as a forgiving person.
"If she was here today, you might be surprised at what she would say to you. She would probably say: 'Come on. You've got to get this past you. You've got to move on. Life is too short. Accidents happen,"' Welsh said.
"She would ask that you do your best to just move on," he added.
"Our prayers are with you, too. So please do the best you can" to recover from the emotional scars of the accident and succeed in life, Welsh urged Yoder.
Yoder's only prior offense was a speeding ticket about a year ago, Lowry said.
Kathleen Thompson, an assistant city prosecutor, had recommended that Yoder serve five years' probation, pay the maximum fine of $1,150 and suffer a five-year driver's license suspension.
The judge commended Yoder and the Welsh family for their respect for the legal system and for each other and for their sensitivity toward each other, despite the physical injuries and emotional strain caused by the accident.