Dazed silence angers victims' kin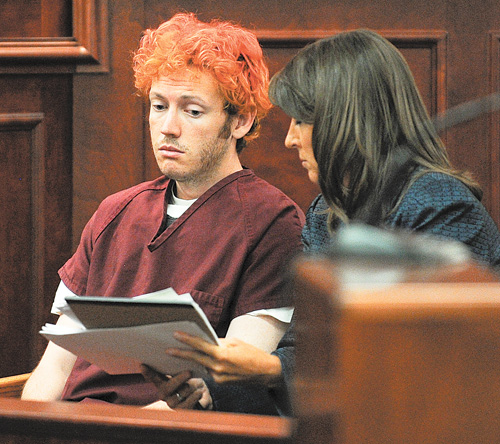 ---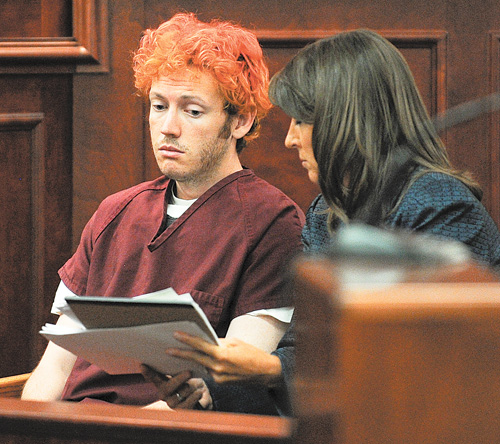 Photo
Public Defender Tamara Brady shows James E. Holmes documents as he appears in Arapahoe County District Court on Monday in Centennial, Colo.
Associated Press
CENTENNIAL, Colo.
His hair dyed a shocking comic-book shade of orange-red, James Holmes showed up in court for the first time, but didn't seem to be there at all.
The world's first look at the man accused of killing 12 moviegoers and injuring 58 others in a shooting rampage at a packed midnight screening of the new Batman film was that of a sleepy, seemingly inattentive suspect.
Holmes shuffled into court Monday in a maroon jailhouse jumpsuit with his hands cuffed. Unshaven and appearing dazed, Holmes sat virtually motionless, his eyes drooping as the judge advised him of the severity of the case. At one point, Holmes simply closed his eyes.
He never said a word.
Prosecutors said they didn't know if he was being medicated. His demeanor, however, angered victims' relatives. Tom Teves, whose son, Alex, was killed in the attack, watched Holmes intently throughout the roughly 12-minute hearing, sizing up the 24-year-old former doctoral student.
"I saw the coward in court today and Alex could have wiped the floor with him without breaking a sweat," Teves said. His son, a physical therapist, dove to protect his girlfriend during "The Dark Knight Rises" shooting at a multiplex in nearby Aurora in the Denver suburbs.
The court appearance gave millions the chance to scrutinize Holmes' every movement, every flutter of his heavy eyelids and form their opinions.
"It struck me that this is a person who's been through an emotional maelstrom and therefore might be totally wiped out emotionally," said Dr. Jeffrey Gardere, an assistant professor of behavioral medicine at Touro College of Osteopathic Medicine.
Gardere said there could be "a psychotic process going on and we see that being acted out there. Or there might be some sort of malingering going on. In other words, trying to make himself look worse than he actually is. Or maybe a combination of all of those things."
The hearing was the first confirmation that Holmes' hair was colored. On Friday, there were reports of his hair being red and that he told arresting officers that he was "The Joker." Batman's nemesis in the fictional Gotham has brightly colored hair.
Authorities have declined to confirm if Holmes told officers that he was Batman's enemy. Investigators found a Batman mask inside his apartment, a law enforcement official close to the investigation said Sunday on condition of anonymity because he was not authorized to speak to the news media.
Holmes, whom police say donned body armor and was armed with an assault rifle, a shotgun and handguns during the attack, was arrested shortly afterward. His home was booby-trapped with a trip wire, explosives and unknown liquids that took a day to disarm.
Police have said Holmes began buying guns at Denver-area stores nearly two months before Friday's shooting and that he received at least 50 packages in four months at his home and at school.
Holmes, who is being held in isolation, is refusing to cooperate, authorities said. They said it could take months to identify a motive.
The shooting was the worst in the U.S. since the Nov. 5, 2009, attack at Fort Hood, Texas. An Army psychiatrist was charged with killing 13 soldiers and civilians and wounding more than two dozen others.
On Monday, security was tight as uniformed sheriff's deputies were stationed outside, including on the roofs of both court buildings.