Paulines celebrate 50th anniversary at Alberini's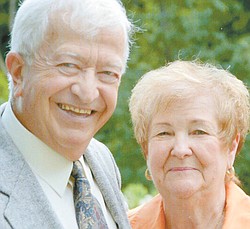 Photo
Mr. and Mrs. Dominic Pauline
STRUTHERS
Dominic and Elizabeth Pauline of Struthers celebrated their 50th wedding anniversary July 17 at a family dinner at Alberini's Restaurant in Niles. The couple's three children, Dominic Pauline Jr. of Austintown, Denise Felt of Girard and Michael Pauline of Columbiana, hosted the celebration. The couple also have six grandchildren.
The celebration will continue at a later date with a trip to Last Vegas and San Francisco.
Mr. Pauline married the former Elizabeth Maloney on July 14, 1962, at St. Dominic Church in Youngstown.
Mrs. Pauline, who is known as Cookie, retired in 2003 from Indalex Aluminum, where she was human resources coordinator.
Mr. Pauline is semiretired and works in sales at Youngstown Plant and Flower.
The couple are members of St. Dominic Church.