Coes celebrate 55th anniversary at family party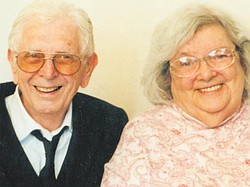 Photo
YOUNGSTOWN
Donald and Lillian Coe of Youngstown celebrated their 55th wedding anniversary June 28 at Beeghly Oaks Center in Boardman along with friends and family. Their son, Don Coe Jr. of Youngstown, and their granddaughter, Erinn Coe, hosted the celebration.
They have another granddaughter, Jessica Coe, and a great-grandson, Greyson Bosley.
Mr. Coe married the former Lillian McNamee on June 28, 1957, in Brookfield.
Mrs. Coe is a homemaker, and Mr. Coe retired in 1989 from LTV Steel, where he was a burner. He served in the U.S. Navy from 1950 to 1953 during the Korean War.
The couple are members of White Memorial Wesleyan Methodist Church, in Struthers.