Published: Sun, July 22, 2012 @ 12:10 a.m.
Hearns, Carano, Neumeister, Terlesky are winners
By Ryan Buck
Warren
Greatest Golfer of the Valley Junior Finals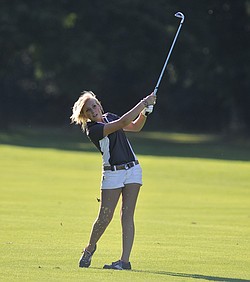 Gallery
Taking on a demanding golf course (tight and twisting fairways, sharp and undulated greens and occasionally an unforgiving rough) is difficult in itself.
Achieving that feat against one's finest competitors is quite another.
Four talented youngsters manage to do both Saturday at Trumbull Country Club in The Vindicator's Greatest Golfer of the Valley juniors competition presented by Farmers National Bank.
Dom Carano took the boys 15-17 year-old age group with a score of 75 while Rosy Hearns emerged from the girls side with an 80.
Kaylee Neumeister took the girls 12-14 year-old title with an 86 and Brian Terlesky's 68 led a very strong boys field with the best score of the day. Terlesky is 12.
Upon learning of the second-year event's existence, Carano aimed to win a Greatest Golfer title before his high school graduation.
"It feels great. It's a little early," said the junior-to-be at Canfield High School. "Sometimes you start to wonder when it's gonna be and if it's ever going to come.
"I wanted it so bad. This is one of my goals. It's such a nice tournament, such a big tournament in my eyes and it's great to win it."
Carano's consistency carried him to a three stroke victory. His front-nine 37 and back-nine 38 were good enough to outlast Jason McQuown, who fired a 78, and 79s from Jason LaPolla and Bill Colbert.
"I've seen all these guys play before and I've seen what they're capable of, what kind of numbers they can throw out," Carano said. "It feels good today to have it."
Hearns of Hickory High School in Hermitage will head back across the Pennsylvania border with the Greatest Golfer trophy in her grasp. Hearns' round turned on her back-nine performance.
"I missed so many putts," Hearns said of her front-nine troubles. "I was so close for birdie and I would end up three putting and make bogey. So that really killed me.
"But on the back I finally figured out the speed and started making pars instead of bogeys."
Hearns' final nine hole total of 37 erased a five-shot deficit to Christina Cooper at the turn. Cooper finished second with an 83 followed by Gina DePasquale, who notched an 84.
Lakeview High's Neumeister led at the turn and pulled away from the 12-14 year-old field late for a seven-stroke win.
"It was just consistency," Neumeister said. "It was getting up-and-down [for par] when I had to and just making shots when I had to.
"You've just got to be ready for a long day," she said of the tournament grind. "Never giving up, never getting tired; it's a long day, but you've just got to keep going."
Emily Koehler finished in second place with a 93 as Sarah Brindley's 103 was good for third.
Boardman's Terlesky continues to amaze. The nationally-ranked junior player is a tournament veteran already, tested at many levels in competition.
"I just want to play my best, try my hardest and never give up," Terlesky said of his tournament mindset.
He bested a very strong group by four strokes. Friends Ken Keller and Zach Jacobson were close behind with a 72 and 73, respectively.
"It was a great group. I knew that Kenny and Zach were going to shoot good. We always play together and they always play good."
For continuing tournament coverage, see vindy.com/golf and on Twitter with @vindygreatest.
GREATEST GOLFER of the VALLEY

Junior Finals
Trumbull Country Club

Saturday, July 21, 2012
Boys 15-17

Boys U17 – 6200/par70
Dom Carano Canfield 75

Jason McQuown Poland 78

James LaPolla* Warren JFK 79

Billy Colbert Hickory 79

Evan Standohar Girard 80

Brian Austalosh Campbell 81

Matt Matasy Austintown 83

Payton Snyder Western Res 84

Buster Thomas Lakeview 84

Cory Stefanec Mooney 86

Nathan Garofalo Columbiana 90

Ryan Dugan New Castle 96

Girls 15-17

Girls U17 – 5597/par 73
Rosy Hearns Hickory 80

Christina Cooper Canfield 83

Gina DePasquale Hubbard 84

Melinda Hannon Poland 85

Cait Butler Mooney 91

Rachel Sines Poland 91

Michele Whiteleather Canfield 91

Haleigh Guerrero Howland 95

Rachel Williamson Fitch 100

Gina Cerimele Canfield 102

Brittney Schneider South Range 105

Abby Larimer Western Res 106

Boys 12-14

Boys U14 – 5597/par 70
Brian Terlesky Boardman 68

Ken Keller Boardman 72

Zach Jacobson Poland 73

Joe Shushok Fitch 79

Mark Standohar Girard 82

Cade Kreps Boardman 82

Nicholas Braydich Struthers 83

Donavan Ray Howland 83

Ryan Theis Austintown 86

Joey Passerotti Mooney 89

Andrew Letscher Canfield 90

Tavish Burd Warren 92

Girls 12-14
Girls U14 – 5200/par 70

Kaylee Neumeister Lakeview 86

Emily Koehler Vienna 93

Sarah Brindley Howland 105

Taylor Horn Cortland 116

Kaci Carpenter Canfield 117