Mural depicts past, future of historic Idora neighborhood
Idora Neighborhood Mural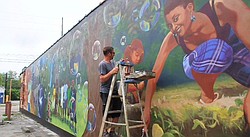 Video
A Columbus artist is painting a mural in Youngstown's Idora neighborhood.
By DAVID SKOLNICK
skolnick@vindy.com
YOUNGSTOWN
Those traveling south on Glenwood Avenue are greeted by a 90-foot-long by 15-foot-high mural that represents the past, present and future of the Idora Neighborhood.
Curtis Goldstein of Columbus finished painting the mural Friday, after working on it for three weeks, on the north wall of the former Park Inn/Mystic nightclub building on the northwest corner of Glenwood and Parkview avenues.
"We wanted to have something beautiful and exciting to showcase the neighborhood," said Liberty Merrill, program coordinator of the Youngstown Neighborhood Development Corp., a neighborhood revitalization agency that has focused much attention on the Idora Neighborhood.
The YNDC selected Goldstein from about 20 to 30 artists who applied to paint the mural, Merrill said. Goldstein — who has painted about 20 public murals including in Columbus, Marysville, Reynoldsburg, Glendale and Newark — received $15,000 for the Youngstown painting.
The mural on the 2622 Glenwood Ave. building includes depictions of the former Wild Cat roller coaster at Idora Park, Lanterman's Mill in Mill Creek MetroParks, a young girl who lives in the community blowing bubbles with the bubbles floating past a group of local residents and ending at a community garden.
"The past is behind the girl and the bubbles flow toward the future of the area," Goldstein said.
Goldstein said he's a "little worried and nervous about what people will think" of the mural, but hopes it "builds confidence and pride" in the community.
"When they see it, I hope they feel that good things will happen," he said. "Also, I hope it inspires businesses to improve and possibly attract businesses" to the area.
The former Park Inn/Mystic nightclub building is owned by Ronald Donofrio, who operates Organized Space, a custom-built cabinet business, at the location. Donofrio is making interior and exterior improvements to the building.
The Idora Neighborhood is bounded by Old Furnace and Canfield roads, Mill Creek MetroParks and Glenwood Avenue.
"The mural helps draw attention to the great things in the neighborhood," Merrill said.
Through a partnership between the city, the YNDC, the Idora Neighborhood Association and other groups during the past four years, the area has established four community gardens, 91 dilapidated houses have been demolished with another 18 likely to be taken down, and 35 other houses were rehabilitated and sold, said Ian J. Beniston, YNDC's deputy director.
The mural is a "positive representation of the neighborhood," he said. "It makes you feel good."
Donofrio's building was chosen for the mural because "it's a very open space with a lot of traffic going past it," and is right near the gateway to the Idora Neighborhood, Beniston said.